What could be worse than knowing that 1 in 9 Americans (5.2 million) over the age of 65 are affected by a non-curable disease? How about knowing that this number is expected to increase to 16 million people by 2050.
The disease is Alzheimer's.
There is no cure.
It is not just a normal part of aging.
Alzheimer's is a serious disease that gradually rips away people's memory and cognitive abilities while affecting their behaviors at the same time. The symptoms get worse and worse over time until they get to the point that they interfere with daily tasks of caring for themselves such as going to the toilet on their own.
This is a sponsored conversation for Banner Alzheimer's Institute, a nonprofit organization.
Currently, 1 in 10 people are caring for a loved one with Alzheimer's disease and this number is increasing.
You may be wondering what you can do to help. How can you help if you aren't a doctor, scientist, etc? This is how I am with my son's Type 1 Diabetes. I feel so helpless because I'm not in the medical field. What I've learned as a T1D mom is that there is always something you can do from raising awareness to raising funds for research.
The case is true for Alzheimer's too. There is something you can do to help that takes only a few minutes of your time to start. An easy way for you to help fight Alzheimer's Disease is to join the free Alzheimer's Prevention Registry.
This registry is a way for you to help stop the disease. Just think about it. If we do nothing to help, it might be out own lives or lives of loved ones affected years from now. If 16 million people are projected to have Alzheimer's, chances are good you will be affected one way or another.
It only takes a couple minutes to sign up. Once you sign up, you'll receive occasional emails about prevention study opportunities and research news. You'll also be given the opportunity to participate in studies that you choose and qualify for.
Please don't hope that someone else will help. They need each of us. Did you know that 80% of studies fail because there aren't enough people signing up? What a shame. Perhaps a cure or a way to prevent Alzheimer's could be found sooner if more people volunteer to participate in these studies.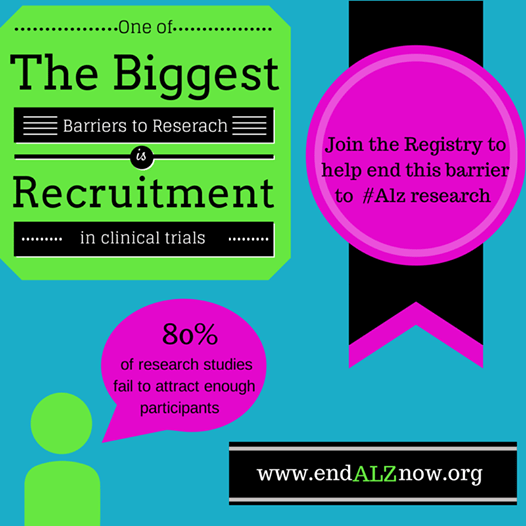 The Banner Alzheimer's Institute is the company behind the registry, as well as partners you might be more familiar with like the Cleveland Clinic, Mayo Clinic, Johns Hopkins, and more.
The Banner Alzheimer's Institute's goal is working threefold to:
Prevention – Their goal is to end Alzheimer's disease before losing another generation
Care – Set a new standard of care for Alzheimer's patients and their families and support system
Collaboration – forging a new model of collaboration in biomedical research
The BAI believes that the combination of brain imaging and genomics can lead to the end of Alzheimer's through preventative measures. This is an exciting time of investigatory drugs that may prevent or delay symptoms of Alzheimer's in people at high risk as well as better prevention with early detection.
Now is your chance to help in a big way. Will you consider joining the fight against Alzheimer's? You might be helping a grandparent, a parent, yourself or even your own child.
Will you sign up like I did for the free Alzheimer's Prevention Registry?
You can also connect with Alzheimer's Prevention Initiative and Registry on Facebook and Twitter.