Christmas is just a couple weeks away, do you have your Christmas Tree up yet? Have you unpacked your old tree only to find it damaged or missing parts? This is the perfect year to pick out the perfect artificial tree for your home and family that will last for years to come.
We unpacked our Christmas tree of 16 years this season and realized that it was getting a little shabby. We bought it when we were newlyweds, it was time to upgrade with a tree that suits our family.
Artificial trees have come a long way since we last shopped for a tree. You can get all kinds of styles, sizes, and even with LED lights that change colors.
We choose our tree from Tree Classics. They have been in business since 1976 – the year I was born – offering the "World's Finest Artificial Christmas Trees".
I received product to facilitate this post.
Artificial Christmas Tree Buying Guide
Check the Tree Classics Buying Guide to pick the best tree for your home and family.
1) Choose a Christmas Tree Style
Classic Trees for those of us that are traditional and like our trees to showcase reds, greens, golds, and a variety of home-made and classic oranments.
Their Rustic and Outdoorsy trees look like they just came in from the wintery, snowy outdoors. This is the perfect artificial Christmas tree for people who have a country-theme and want to showcase the beauty of winter inside their homes.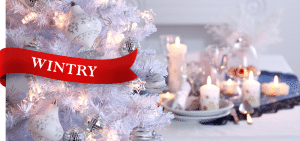 Wintery Trees are stand-out trees offering a wintery look of a White Christmas. These trees are perfect for an all-white, silver, or gold decorations.
From each category, Tree Classics offers many trees to choose from including Fraser Fir, Blue Spruce, Kennedy Fir, Oregonian Slim, Aspen Spruce, Clifton Pine, White Fir, and so many more.
2) Choose the Tree Size and Shape
To determine the best Christmas tree size, you need to consider the room it will be in, height of ceilings, in a corner or next to a doorway or wall, etc. You will also want to consider if you want it to be the centerpiece of the entire room or an accent.  If you are like me, you want the biggest tree possible for the room. If so, be sure the tree measures 6″ or less than the height of your ceiling.  For a standard 8 or 9′ ceiling, a 7 or 7-1/2′ tree works well.
Tree Classics offers three shapes to fit any home: regular/full, narrow/slim, and flatback.
3) Decide on Christmas Tree Foliage
Tree Classics offers a three needle types to choose from:
Real Feel (PE) – for a realistic-looking tree with needles that are full and lush. (pictured above)
Classic (PVC) – for needles of different thicknesses, offering a well rounded, life-like appearance
Pine Needle  – long, full, and feels like the texture of real pine.
4) Select Lights
Tree Classics offers the finest pre lit trees with 4 options to fit your needs:
Clear-Lit
Multi-Lit
LED or LED Color-Changing
Unlit
The newest in lighting are the LED Color-Changing Trees that use color changing technology to provide 4 lighting choices in one: clear, multi, alternating between clear & multi, or unlit.
Order Your Artificial Christmas Tree Now
No matter which artificial Christmas Tree you select, you will receive a high quality artificial tree that will last for years to come with Tree Classics. Enjoy the many benefits of a Tree Classics tree including hinged branches for easy set-up, strong and durable construction, and long lasting Worry Free™ lights. Now is the time to buy with sales all December long!
Connect with Tree Classics on Facebook and Twitter.