If you wish for smoother, more youthful-looking skin, you're not alone!  Finding the right skincare products to attain can be confusing.  If you are looking for a clean, science-based anti-aging skin care routine like me, you will love The Essentials.  The Essentials is a line of easy-to-use products that you use daily to fight the signs of aging all without toxic ingredients.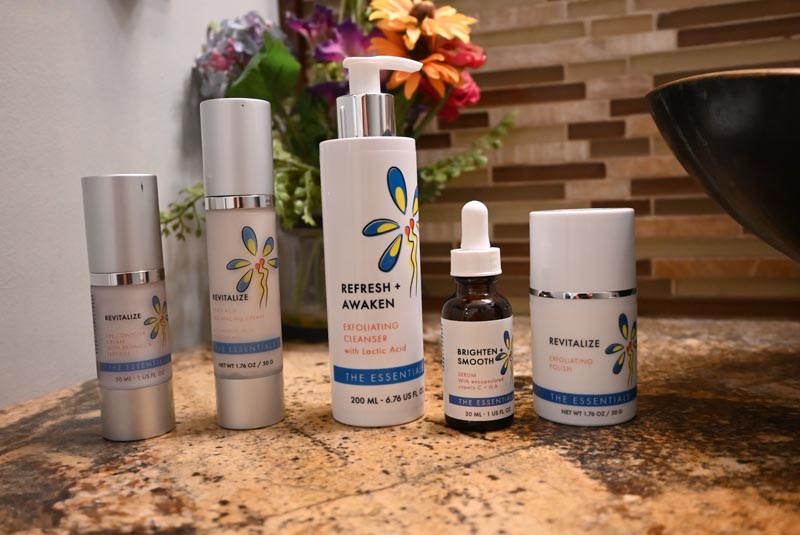 This is a sponsored post.
The Essentials helps your skin three-fold by protecting, correcting, and preventing future damage to your skin.
Start with the Exfoliating Cleanser that gently exfoliates your skin daily for instantly brighter and smoother skin.
The next must-have is Skin Essentials Polishing Cream. Once you start using this cream, you'll never want to stop. It helps remove the dead skin cells that you don't even realize you have or the effect they have on the appearance of your skin. I use a sonic massager to apply but you can use just a wash cloth. It detoxifies your skin pores to improve the look and feel of your skin. I love how it helps smooth out the fine lines I have all over my face and that is safe for acne-prone skin because believe it or not, even in my 40's, I get occasional flare-ups! Fighting aging and acne can be a challenge.
Add Multi Acid Cream to your daily routine. It helps improves skin tone while promoting cellular renewal that will cause your skin to look visibly smoother.
Like most people, my problem spot for wrinkles is around my eyes. Fine lines, wrinkles, puffiness, dark circles – I have them all!  The Eye Contour Cream is like a face-lift in a jar. It helps smooth out fine lines and wrinkles while brightening the skin around your eyes to give you a more radiant glow.
At night, I can't wait to put on the BRIGHTEN + SMOOTH Encapsulated Vitamin C Serum with Hyaluronic Acid. It works all day (although you can wear in the day too) to stimulate collagen and elastin to smooth out fine lines and wrinkles. It uses encapsulated technology to deliver the purest concentration of vitamin c directly to your skin – you can't get anything better than this!
You can purchase The Essentials ala cart in a kit – I recommend the kit for savings!  If you have oily or dry skin, they have a kit for you too.
If you are serious about taking better care of your skin and fighting the signs of aging whether you are just noticing the first few wrinkles or you have plenty, check out The Essentials. It's all you need in one collection to all you need to fight the signs of aging.