While we are pregnant, we examine every single thing we consume to ensure it is safe for baby. Did you know that some skin care ingredients are absorbed into your bloodstream and pass directly into the fetal circulation? This could affect your baby's development. Whether you are pregnant or not, it is a very healthy practice to know what you are putting into your body. Absorbed chemicals are not good for anyone – especially your unborn baby.
We have been promoting Belli Skin Care products for years with excellent results. What I like most about Belli Skin Care is that you can use all of their products without a single worry about the safety of the product – plus, they work!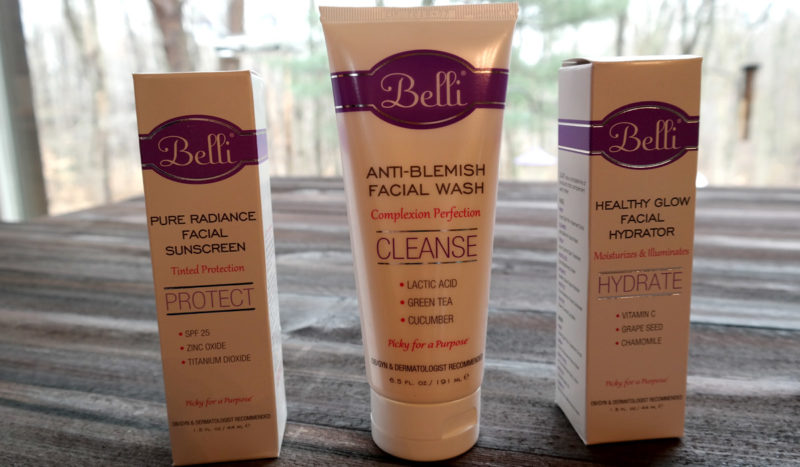 I received product to facilitate this post.
Not only do Belli Skin Care products work well for the ever-changing skin of pregnant women but they are luxurious. The essential oils in Belli products really do pamper your skin, leaving it feeling smooth, brighter, and amazing.
People always say expectant mothers have a 'pregnancy glow' about them. Although radiant with delight, don't expect your skin to be flawless with all of the hormone changes. The Belli Healthy Glow Facial Hydrator will give you the glow of healthy skin that you long for – even if you are not pregnant! This weight-less hydrator moisturizes your skin with a boost of Vitamin C and grape seed oil for that radiant, healthy glow for women of all ages. It is a great moisturizer before make-up as it quickly dries and leaves your skin hydrated and smooth.

One of my favorite products is the CLEANSE Anti-Blemish Facial Wash (pictured above).  Even as a grown woman, I get occasional break-outs. When I was pregnant, I always struggled to achieve clear skin. This facial wash is amazing as it uses natural ingredients like lemon peel oil, lactic acid, green tea extract, and cucumber to cleanse and exfoliate your skin without leaving it dry. So many blemish cleansers destroy your face in order to fight acne. Belli gently cleanses your skin, leaving it fresh, clean, and clear. With so many hormonal changes pregnant woman are going through, the last thing they need is acne!
You really have to be careful when it comes to sunscreen and chemicals. Some chemicals can even disrupt hormones. In fact, some studies show that 75% of sunscreens are toxic. Don't worry, you won't get a sunburn or poisoned when you use the Belli Pure Radiance Facial Sunscreen. 
I can't wait to try this sunscreen out when it gets warmer (although you should wear sunscreen daily, year-round). I've tested this product out for 'wear-ability' and it is just as lovely as the other Belli products I've used. It is light-weight and oil-free. It is even lightly tented to provide a little extra coverage when going make-up free this summer – which I LOVE! It provides 25 SPF with zinc oxide and titanium dioxide to give you a physical barrier against the sun's harmful rays.
earn more about the affects of chemicals in skin care and how they affect unborn babies here.
This line of skin care is fantastic for all women as you don't have to worry about what you are using on your delicate skin -it's safe. You can purchase Belli products on the Belli website and on Amazon.com.