Are you tired of being white as a ghost? Or maybe you just want to to tan without the ill effects of prolonged sun exposure? I have lived my whole life under the safety of sunscreen. My pale skin sometimes burning at the mere thought of sunshine. Over the years I have tried sunless tanners before but pale skin with pink undertones, I would just end up streaked orange. Not so pretty for a redhead. After failed attempts I gave up….that is until recently. I learned a little about Fake Bake's Sunless Tanners and thought just maybe this will work for me.
I received product to facilitate this post.
Sunless Tanner Prep
To get ready to use Fake Bake Flawless all you have to do is take a shower, shave and exfoliate. So you skin is clean and smooth. This helps prevent any streaking or splotching.  I used a loofah and for my feet and knees, I used an exfoliating soap over my whole body.  I did get a tiny bit splotchy with my 1st application but within an hour or two after showering in the morning, it blended in. (See my right foot.) Oh and it smells so good compared to sunless tanners I have used in the past!
Sunless Tanner with Easy Application
I tried out Fake Bake's Flawless self tanner. I was pleased that included in the box was application gloves and a super soft mitt.  The gloves are to be worn under the mitt so that you don't over tan your hands.  The mitt made application easy. Spray the mitt and rub into your skin. Fake Bake's Flawless is DHA boosted by DMI & Erythulose and does NOT contain artificial preservatives or parabens.
Dual-function Sunless Tanner
Fake Bake has a bronzer so you can see where is goes for easy application. The bronzer  is also great for instant color. The bronzer is transfer resistant so your clothes don't get stained. The bronzer will wash away a little when you shower.
I love the color achieved after only one application. I will reapply it every 3 days. When it warms up and we have more sunny days, I plan to use it a few days in a row to get a darker color and then reapply as needed.
Check out Fake Bake for all your sunless tanning needs, they have many tanners to chose from.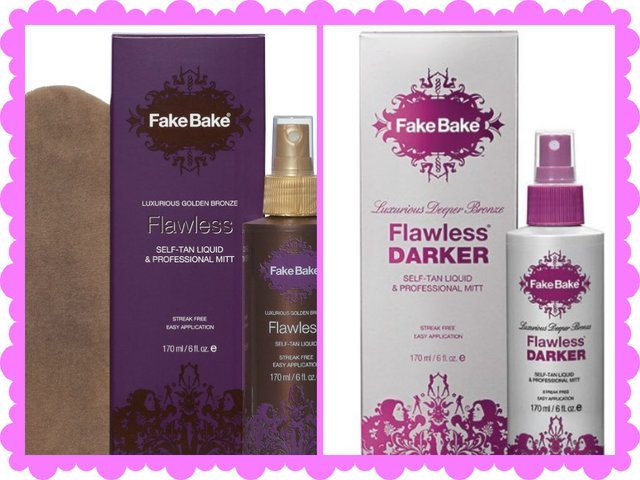 Buy Fake Bake Flawless
For $24.99 you can order the kit shown above with their no worries lip gloss (valued at $11.95). If you need more color then you should check out Flawless Darker and get a darker more intense tan.