I recently discovered Flat Iron Experts and had the opportunity to test their best selling Flat Iron. Flat Irons are great for all hair types and the KQC X-Heat Flat Iron not only straightens but also flips and curls your hair.
Hands On Review of KQC X-Heat Flat Iron
Th KQC X-Heat Flat Iron Professional 1″ Plate Width retails for $230 but is on sale for only $159.99 at Flat Iron Experts. As a busy mom, the first feature that I was impressed with was that the plates heat up to 410°F in less than 30 seconds! The plates heat evenly too, which is essential in obtaining quick, beautiful styles. This flat iron is easy to use for the style of your choice. You can flatten you hair, flip it, or even curl it.
I have long, thick hair with leftover perm. My hair is naturally straight, poker straight, but even without the leftover perm I never leave the house without curling it or using a flat iron. Naturally, my hair doesn't look smooth or have the polished that I desire.  I don't have a lot of time to style my hair each morning as I am also getting my preschoolers ready. I need a product that heats up fast, is easy to use, and provides results that are consistent each time.
The Flat Iron Experts KQC X-Heat Flat Iron meets all of my requirements. Like I said, it heats up quickly and the KQC flat iron is easy to use. I have a head full of thick hair. I just take the flat iron and start from the top of my hair and gently run it down to the ends of my hair. The KQC flat iron slides down my hair smoothly and effortlessly. Be careful when using this product, it works quickly but makes your hair hot! It is important to continue to run the flat iron on your hair or it could cause damage if left in one spot. You can adjust the settings based on your hair type from 140°F to 410°F.  With my thick hair, I set it at around 380°F. Surprisingly, by taking 1-2″ pieces of hair, it only takes 8-10 minutes to straighten and flip under all of my hair. If I'm in a rush, I can even get the majority of my hair styled nicely in about 5 minutes.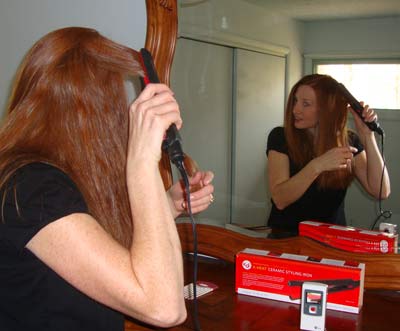 With this flat iron, it takes away the frizzy, dry looking hair and turns it into a smooth, shiny head of hair that looks healthy and gets noticed! The X-Heat technology actually softens the hair and seals in cuticles for noticeably shiny hair. I don't get the static electricity that some products have given me in the past.  Tell me what you think of my after pictures.
How to use KQC X-Heat Flat Iron
Here is a quick video of how easy it is to turn frizzy hair into shiny, smooth hair.

More on Flat Iron Experts
Flat Iron Experts are just that, experts in the flat iron field. They have compiled a Best flat iron list with pros and cons of various irons based on versatility, functionality, and warranty periods.  Flat Iron Experts has done all of the research and homework for you, so you can be confident in the product you select.  It is not hard to understand why the KQC X-Heat Ceramic Styling Iron is ranked right up in the Top 3! The KQC X-Heat Ceramic Styling Iron is the preferred flat iron by hair stylists around the world and the KQC has received recognition in countless magazines for its superior long-lasting shiny results. The X-Heat technology styles hair faster while softening by using maximum ions and infrared.
Flat Iron Experts has everything you need for beautiful, healthy hair. They have all of the top brands in flat iron, curling irons, hair dryers, styling tools, hair care products, and cosmetics. Their prices are great with special promotions and free shipping on orders $75 and more.  Flat Iron Experts is not just a retailer of great beauty products, but they conduct research on each product to offer you the best products available.  Check out their Top 3 Lists for their products to find the best products of today. You can even search for the product that fits your needs based on type of product and price ranges.
Buy the KQC X-Heat Ceramic Styling Iron
You can purchase the KQC X-Heat Ceramic Styling Iron on the Flat Iron Experts Website.  The price is just $159.99, normally $230. AkronOhioMoms.com fans can receive an additional 5% off with Flat Iron Experts coupon code SALE5 for a price of $152. For a limited time, when you buy any KQC X-Heat Flat Iron you will receive a Free KQC Shine Spray valued at $18.99. Receive FREE, same-day Shipping on all orders $75 and up.
Win the KQC X-Heat Ceramic Styling Iron from Flat Iron Experts (Closed)
Updated: 5/16/10 Winner Announced: Brandy Bryne, entry #329. Congratulations, Brandy, you have 36 hours to respond to the email sent to you or another entry will be randomly selected.
Flat Iron Experts has generously provided one KQC X-Heat Flat Iron Professional 1″ Plate Width as a giveaway to one lucky AkronOhioMoms.com follower. Giveaway is for USA and Canada.
For complete contest rules, please see our Contest Statement and Blog Disclosure.  Contest ends at 11:59pm EST on May 15th when a winner will be drawn at random and announced the next day. When commenting, please include your email address (not visible to public). I will notify the winners and they will have 36 hours to respond!
This was not a paid post. My own opinions were used based on my perceptions and experience. Thank you to Flat Iron Experts who supplied the products for review and giveaway.