Your hair says a lot about your age, health, and lifestyle. Healthy, shiny, full hair makes anyone look healthier and younger too. As we age, our hair loses elasticity and fullness. When we color, chemically treat, and heat style, our hair can become dry, broken, and dull.  RG Cosmetics hair care products target the core issues that we all face when it comes to our hair.  Founder Roberta Gomes (pictured center above) of RG Cosmetics had one goal when she founded RG Costmetics, to develop a line of hair care that makes beautiful, healthy hair a reality of all hair types.
I have had the pleasure of reviewing RG Cosmetics Collagen hair care products this month and love how healthy and luxurious my hair looks and feels.
Keratin X-press does an amazing job smoothing your hair, especially if you are blow drying and straightening your hair. I prefer a little curl in my hair, even after I straighten it but it works equally as well either way I style it.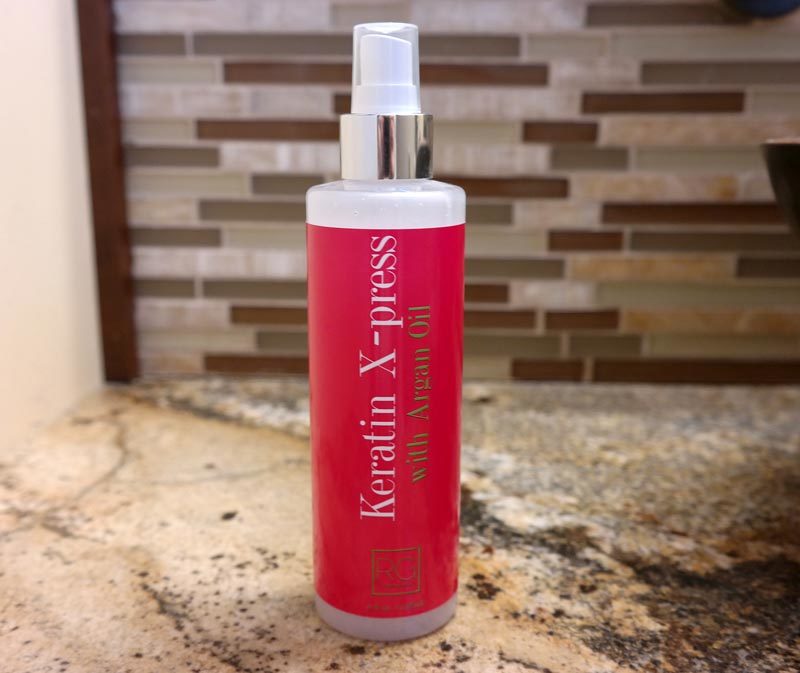 The power of keratin is what helps deliver the smoothness and shine as it straightens and conditions your hair. I simply spray a few times on my damp hair before drying and styling. I get compliments on how healthy my hair is all the time.
For shiny healthy hair, you have to start at the basics of washing and conditioning as well. Hair needs collagen to look healthy and youthful. Adding collagen to your hair care routine helps revitalize, strengthen, and thicken hair as it reconstructs the damaged hair. I put my hair through a lot with perms, straightening, blow drying, and styling products but I keep it healthy and strong with RG Cosmetics hair care products.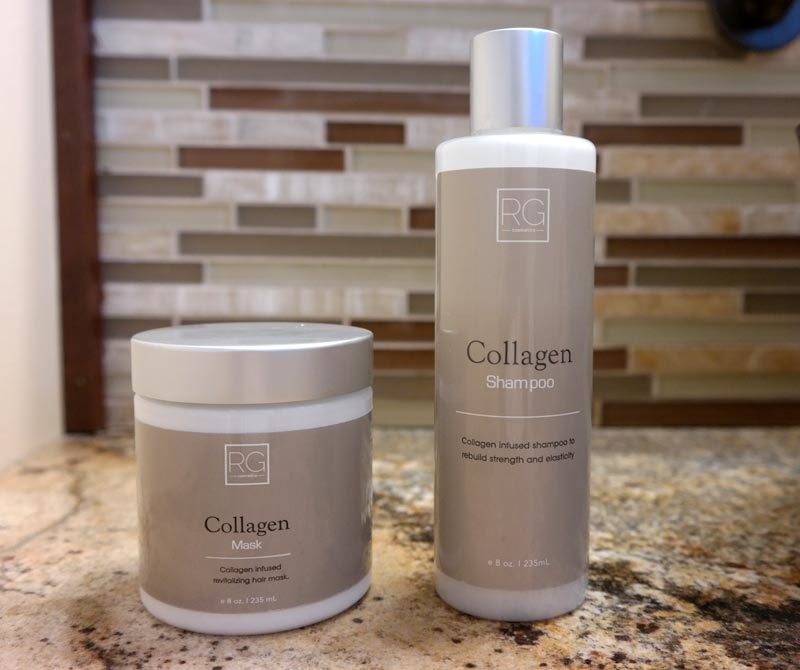 Start your routine with Collagen Shampoo, it is infused with collagen. The collagen helps rebuild strength and elasticity in your hair with every wash. If you have dry, damaged hair like most of us do, the I highly recommend you try is the RG Cosmetics Collagen Hair Mask.
This has been especially helpful since I just got my hair permed. If you've had a perm, you know how it dries your hair out. This mask restores the moisture and strengthens my hair.
This mask takes only 10-15 minutes to work its magic. After washing your hair and towel-drying, apply a generous amount of Collagen Hair Mask and work through your hair.  If you have a dryer, you can sit under one. After 10-15 minutes, rinse and style as usual.
Another must-have product is RG Cosmetics Argan Oil. Argan oil is a miracle product for dry hair and split ends. It restores the moisture right back to the cortex to treat your hair from the inside out. I love that it is very lightweight and leaves my hair smelling fresh with it's light fragrance.  What I love most about it is that it tames frizzy hair, something I need with my permed hair.  This argan oil theraphy adds shine, silkiness, and moisture to my hair. I use a tiny bit every day.
 These are just a few products that I enjoy using from RG Cosmetics. There are plenty more that I want to dry. Find out more on the RG Cosmetics website.
These are just a few products that I enjoy using from RG Cosmetics. There are plenty more that I want to dry. Find out more on the RG Cosmetics website.