I'm a busy, on-the-go woman and mom. I always want to be prepared with everything I need, even when I'm just running errands in town or walking on a trail. I've tried stuffing essentials like my smartphone, camera, sunglasses, camera, keys, lipstick, and diabetic supplies in my pants pockets and coat, only to be weighted down and uncomfortable. I usually carry a purse but sometimes, this isn't practical and ties me down. I'm excited to tell you about a product that gives your freedom back with clever pockets!
I received product to facilitate this post.
I must say that I am in love with my new SCOTTeVEST Lola Jacket. Not only is it stylish and keeps me warm but it has 16 pockets to keep all of my gadgets and essentials conveniently stored away within the jacket.
Take a look at this diagram to see what 16 clever pockets look like in this slim silhouette, feminine jacket.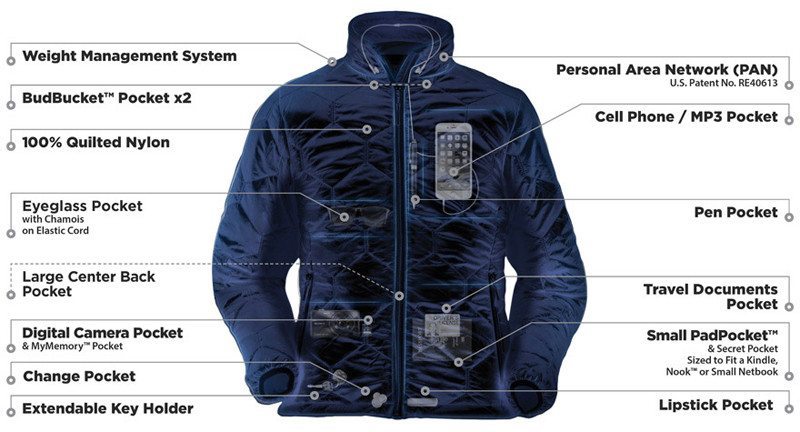 I love how organized I am now! Everything has its place and the jacket feels great, not weighted down at all, that is because of the weight management system that keeps the weight evenly distributed.
Check out other features that I really like about this jacket.
I've never owned a jacket with so many pockets and clever ways to stay organized. I really like the freedom this jacket has given me this season so far. It is a breeze to wear while shopping this busy shopping season. I don't have to worry about losing my keys because they are attached with the extendable key holder or phone because there is a pocket just for it.
Plus, I don't have to carry a heavy purse that can be easily stolen, my money is zipped away safely in my jacket.
I carry my camera with me most of the time, this jacket has a spot for it AND an extra memory card. SCOTTeVEST has thought of EVERYTHING!
For a product that is all about function, the design is all about style and fashion too.
The Lola Jacket is available in Fluff (white), Sparkle (silver), and Rhapsody (purple).  The 100% quilted nylon is flattering with a polyfil nylon that is lightweight but very warm. It is actually the lighted jacket I've owned that is still warm. It was 27 degrees out today and I was very comfortable.  The Teflon Fabric Protector keeps it clean and at worst, you can machine wash the jacket! I've been wearing this jacket daily and even though it is white, it has kept really clean – and it matches with everything!
You can purchase the SCOTTeVEST Lola Jacket for $190.
SCOTTeVEST offers innovative products for both women and men. It makes an excellent gift since it is functional fashion clothing that allows people to work, play, and live in a hands-free, more organized way. You'll never go back to a big, bulky coat while carrying a purse or bag with all of your stuff again – trust me!
There is still time to purchase in time for Christmas! Plus, get FREE UPS 2nd Day Air until 11am December 22nd for all your gift purchases on orders over $200!
Get social with SCOTTeVEST on Facebook and Twitter.