Now that our kids are back in school and schedules are crazy, it is time to be good to yourself with a spa day at Gavin Scott Salon & Spa in Stow, Ohio. Moms are expected to do it all and we often put our kids and the needs of everyone else ahead of our own. We all know that this can only go on for so long before we are stressed out and crack under the pressure. Having a spa day at Gavin Scott will leave you feeling less stressed, more relaxed, and of course, pampered. Invite your friends to a back-to-school spa day!
I received spa treatments to facilitate this post.
Pedicures at Gavin Scott
Who doesn't love a little pampering with a pedicure? I like having pretty, smooth feet with fresh nail polish, so I was happy to receive a 45 minute pedicure.  Upon arriving at Gavin Scott for a pedicure, you'll select your favorite polish. Next, sit back and relax while you dip your feet in the massaging pedi-bath. Next, the pedicurist clipped and rounded my nails. Then, my feet were in for another soak.
Next, my dry skin and calluses were smoothed away leaving smooth, softer skin. One benefit of pedicures is that it exfoliates your dead skin cells to encourage new skin growth for a smoother foot. Exfoliation also can help prevent bunions and corns on your feet. My feet were then wrapped in warm, wet towels and then given a foot masque to moisturize.
Next, my pedicurist massaged my feet and calves. All the aches and pains quickly left my feet with the lotions and oils that moisturized my skin through the massage.  You'll also recieve a massage on your calves, which will make your feet feel like you are walking on air when you leave.
Finally, the nail polish was applied. The client next to me liked the color I chose so much she changed her selection. The atmosphere is friendly and relaxing.

While I was there, there were 3 other ladies receiving pedicures. Choose to catch up on reading or the daily buzz with your pedicurist and other clients. I chose to chat except for this stage photo above. 🙂
The oils and lotions used smelled amazing. My feet smelled so clean and fresh as well as pretty and smooth. I left feeling like I was walking on air.
Facials at Gavin Scott
Regular facials are the key to healthy, smooth, younger-looking skin. Gavin Scott offers a variety of facials including a Deep Pore, Express, Mens, and Teens. I enjoyed the Deep Pore Facial which is a 60 minute facial.  I was greeted by an esthetician and was given a robe to change into. The room facial room was serene with dimmed lighting and soft music playing to calm and relax the client.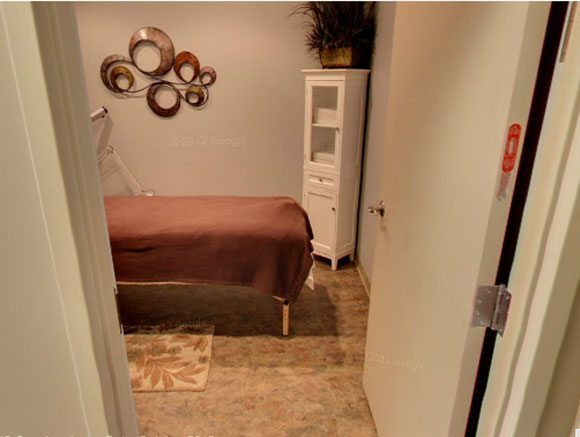 After a brief skin analysis, my deep pore facial began with cleansing several times with hypoallergenic products.  The 60 minute facial includes 2 treatment masques chosen for your skin condition, a steam treatment that feels amazing, extractions for clogged pores, toning, and deep moisturizing.

Facials help improve the circulation of your skin, leaving healthier, glowing skin. It is recommended to have a facial monthly.
At the end of the deep pore facial, you'll enjoy a relaxing neck and shoulder massage. At the end of the facial, I felt so relaxed and may skin had never felt better. It felt soft, smooth, and supple.
Hot Stone Massage at Gavin Scott
A hot stone massage is welcomed, especially now as the weather is cooling. I have had back pain over the past month, so I was especially looking forward to the hot stone massage at Gavin Scott during my spa day.
Upon arriving, I relaxed on the heated spa table. The room was dimmed with soft nature music playing in the background.  During a hot stone massage, water warmed stones are placed on key points on the body to penetrate deep into the muscles and tissues. This allows the therapist to access deeper muscle layers for an incredible massage.
The therapist then uses stones to gently rub into your muscle to ease tension, muscle stiffness, and improve your circulation.  I have had hot stone massages before that felt nice but didn't really work my muscle. At Gavin Scott, it is like a deep tissue massage with hot stones. It really helped work out the kinks and tight spots that I have been having issues with.
A hot stone massage at Gavin Scott gives you deep muscle and tissue relaxation. My stress was melting away. It was a truly soothing and therapeutic experience. I don't think I ever felt so relaxed!
Hot stone massages can help with circulatory problems, stress, arthritis, aches and pains, and more. There are so many benefits of getting regular massages once monthly at Gavin Scott.
Spa Day at Gavin Scott Salon & Spa
My spa day at Gavin Scott Salon & Spa was amazing. I left feeling like melted butter – all the stress melted away and was replaced with a euphoria of utter relaxation. Stress can affect your overall health as well as your mood, outlook on life, and attitude. Do yourself (and your family) a favor and treat yourself to a spa day at Gavin Scott.  Call Gavin Scott today to schedule your spa day at 330-650-4450. Tell them AkronOhioMoms.com sent you.
Gavin Scott Salon
4960B Darrow Road
Stow, Ohio 44224
Gavin Scott Hours:
Monday-Thursday, 9a-9p
Friday, 9a-4p
Saturday, 8a-3p
Like Gavin Scott on Facebook
This was not a paid post. My own opinions were used based on my perceptions and experience. Thank you to Gavin Scott who supplied the services for review.