Do you have a green thumb when it comes to taking care of house plants? Do you forget to water your plants? I do a fairly good job when it comes to gardening outside, probably because the rain keeps my plants from dying when I forget to water. Indoors, I've done nothing but kill plants. It got so bad that I gave all of my 1/2 dead plants to my mom about 7 years ago. They are still alive and even thriving at her house. I envy her ability.
Earlier, I wrote about Lechuza Trio Self-Watering Planter for easy gardening, a large 3-pot planter for both indoor and outdoor use. It's been fantastic!
DELTINI Self Watering Indoor Planter Review
Now, Lechuza has a new product for indoor plants called DELTINI. DELTINI is coming in to save the day for those of us that like to have live, indoor plants in our homes but forget to water them. Lechuza's DELTINI is a self-watering, indoor planter.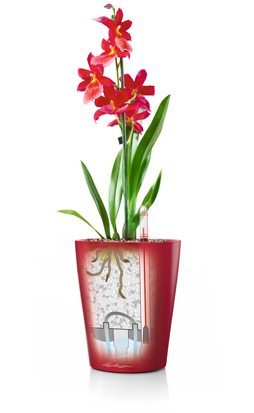 The attractive planter is just 7 inches tall, perfect for delicate table-top planters and plants for your home or office. (I use to kill plants in my office at work too!)
The planter's design is unique too, it is round at the bottom and gradually becomes squared at the top. Match the planter to any decor with their color palatte of White, Charcoal, Silver, Black, Espresso, Scarlet Red, Aubergine, and Orange.
LECHUZA sub-irrigation system
The LECHUZA sub-irrigation system supplies your plant with the amount of water needed for optimal growth, for up to 12 weeks. So, if you forget or go on vacation, it is not a big deal. Have you ever had to get a "plant-sitter" before? I have…my plants never had it so good as when they had a sitter…
Setting up the LECHUZA DELTINI was easy. Simply add the bag of LECHUZA-PON plant substrate to the liner. Add plant. It's that easy. You don't even need the dirt that the plant comes in. The plant substrate is the best for plants.
Yep, I planted a hosta from my garden.  While visiting the Franklin Park Conservatory in Columbus Ohio, we went through a hosta exhibit that was all about bringing hostas out of the yard and into your home for live floral decorations and more. I was inspired so I thought I'd try this as a live plant.
Watering your self-watering LECHUZA DELTINI planter. Simply add water to the planter until the water level indicator reaches "max", about 0.5 liters of water. If you are planting a orchid or cactus, you'll only want to fill it 1/2 way. Once the water level indicator reaches "min", let it start the "dry phase" for 2-10 days. This fill up the reservoir again.
Enjoy worry-free house plants for up to 12 weeks with the LEXHUZA DELTINI.
Buy the DELTINI Planter All-in-One Set
The DELTINI Planter All-in-One Set includes DELTINI-planter, liner, sub-irrigation system, LECHUZA-PON (drainage layer), and water level indicator. You can buy the DELTINI Planter All-in-One Set for $24.95 on the LECHUZA website or on Amazon.com.
You can even coordinate the DELTINI with the DELTA 20, they are the same height and come in the same colors. The DELTA 20 is more of a window box shape, so it would hold more plants.
This was not a paid post. My own opinions were used based on my perceptions and experience. Thank you to LECHUZA who provided the product for review.