Fall is the perfect time to tackle outdoor projects. It's not too hot and not too cold to really get outside and work in the yard.  We have two projects that we are working on this Fall and both require lots of digging, something that I haven't been looking forward to at all. Who wants to be tired and sore from a day of digging? Not me. That's why I was really excited to check out the innovative new line of ergonomic shovels from BOSSE.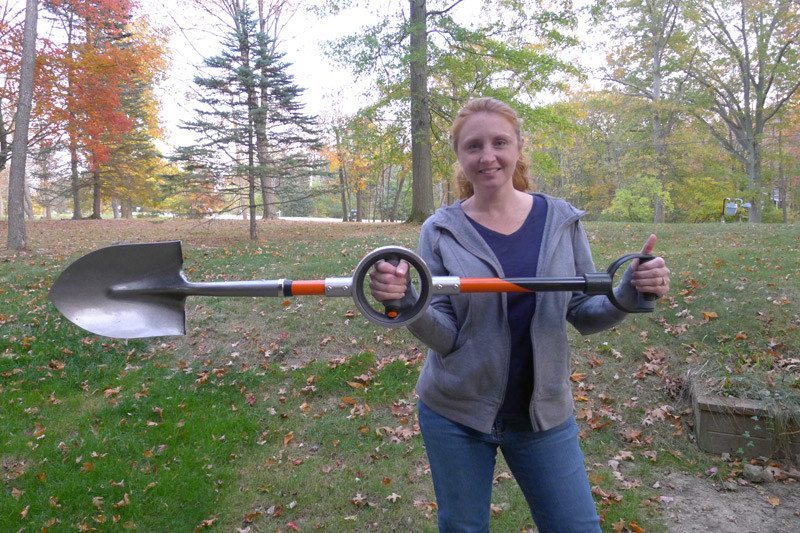 I received product to facilitate this post.
BOSSE Ergonomic Shovels
Ergonomic is the way to go to work smarter, not harder. BOSSE is the first shovel that I have found that is built for the way we work, ergonomically.  They are designed to allow you to get the job done with less strain on your body so you can be more effective.
I was able to review the ergonomic Round Point Shovel, which is perfect for many yard tasks and projects including digging and removing material.
The BOSSE Round Point Shovel's handle is designed to provide a greater range of motion than traditional handles. This is especially important when transferring and moving materials. We had to move a lot of dirt while preparing a new garden this week. This new area will become a water garden in the Spring, so we got a head start this Fall by leveling the area, then covering it in mulch.
With a traditional shovel, you place your hands wherever you feel it is right. With this shovel, my hands had a place to grip in exactly the right place for better work posture. This improved posture helped me to dig for hours without lower back pain, something that has never happened before. I always have back pain after digging and working hard in the yard.
Below, I'm using the shovel to dig a ditch for an invisible fence we are installing to keep our puppy safe. Digging in the woods wasn't bad at all with this shovel – I was so surprised!
The most noticeable feature of the BOSSE Round Point Shovel is the rotating center handle. This is where the magic happens!  The center rotates and locks into the exact place you want for better control for different applications. For instance, you might want the handle to be one direction for digging and another for moving large amounts of material. I might like the grip in one position while my husband wants it in another. This center handle is quite innovative in how we do yard work!
If you have upcoming yard and digging projects, check out the entire line of BOSSE shovels. They offer a variety of high quality, ergonomic shovels for every task. This makes an excellent gift for the gardener and any homeowner on your Christmas list. You can purchase a BOSSE ergonomic shovel on the BOSSE website and on Amazon.com

for $79.99.
Get social with BOSSE on Facebook and Twitter.