This Christmas, give the gift of bright portable light to friends and family.  Everyone deserves a high quality flashlight or lantern to have at home, in the car, for camping and emergencies or just for fun. My kids love flashlights to have by their bed at night and to play with in the dark. It is a reliable, inexpensive gift for all ages.
I've recently discovered BYBLight and their remarkable bright, LED lights. They offer gift-able lighting in the form of flashlights, lanterns, headlamps, bike lights, and more.
I received product to facilitate this post.
LED Flashlight Shines Brighter
Everyone needs a reliable, bright flashlight or two. The BYB LED Adjustable Flashlight offers 3.7v 6800mA bright light in a tough, compact flashlight. The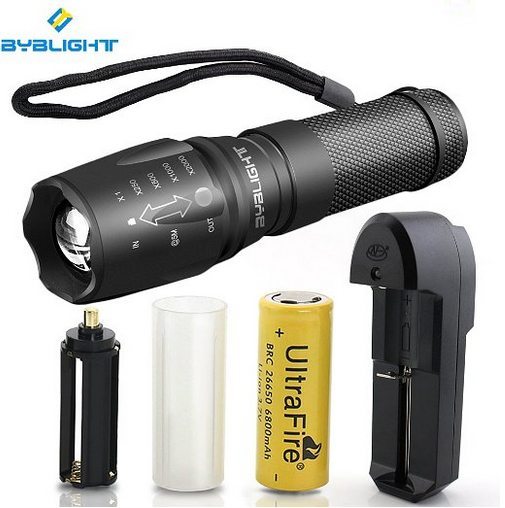 It comes with a genuine 26650 rechargeable battery that can easily be kept charged for use whenever you need it. The exterior is anti-abrasive, shock-proof, water resistant, and built sold. My kids got their hands on this flashlight and remarked that everyone needs it and I agree. It offers the brightest light I've seen with a flashlight so small on 5 modes. My kids like the spotlight square mode best!
Keep it at home for power outages or in your car for emergencies.
Priced at only $16.99 for a limited time, normal price is $59.99.
Light the Outside with LED Camping Lantern
The LED Camping Lantern is a must for campers on your gift list. It is also handy to keep on hand for emergencies, hiking, reading, and outdoor entertaining after dark.
The 300 Lumen LED light is the brightest light I've ever seen! It is quite impressive. This lantern is  built heavy duty and waterproof for all your outdoor camping or emergency needs. The BYB LED Camping Lantern collapses when not using into a small, compact unit.
The BYB Camping Lantern is on sale now for an unbeatable price of just $13.99, normally $49.99.
Light where You Need it with BYB Headlamp Flashlight
The BYB Headlamp Flashlights make a fun and useful gift for all ages.
My kids have so much fun wearing the headlamps for playing hide and seek in the dark both indoors and outdoors. They are also excellent for campers, hikers, and reading at night. There are 3 Modes too medium light, bright light, and 2 red lights for emergency usage.  The headlamp flashlights are built tough and shockproof for camping and kids. They are also waterproof.
Right now, you can buy a 2-pack on sale for just $13.99, regularly priced at $39.99.
Get social with BYB Light on Facebook
BYB Light Coupon Code
Get $3 Off with this BYB Light Coupon Code "AGWMQGWU"