Now that the weather is turning cooler, we'll be spending more time indoors. Get your home ready for more at-home game nights, family movie nights, craft time, play dates, and of course, friends and family visiting during the holidays.
It's time to get rid of that nasty mop that is just spreading around germs over and over, month after month. It is time to upgrade to the latest in cleaning technology to make your job easier and your home cleaner.
Mopping has always been a dreaded job for me. Unfortunately the majority of my home is solid floors so I am mopping more now than ever. This Spin 'n Dry Mop is better than traditional mops for a number of reasons.
The most obvious is the microfiber head, it picks up and cleans better and wrings out quickly and easily with the built-in spinner! A cleaner mop means cleaner floors. I love how easy it is to wring out this mop.

You can purchase the Spin 'n Dry Mop for only $24.99 on the Casabella website and on Amazon.com, a good price for a quality mop.
For quick clean-ups, the Compact Upright Sweep Set.  The dustpan and broom connect and store compact even in the tightest spots. I like that the broom pole extends to full size broom but can also be used for shorter people – like kids to help with household chores. 🙂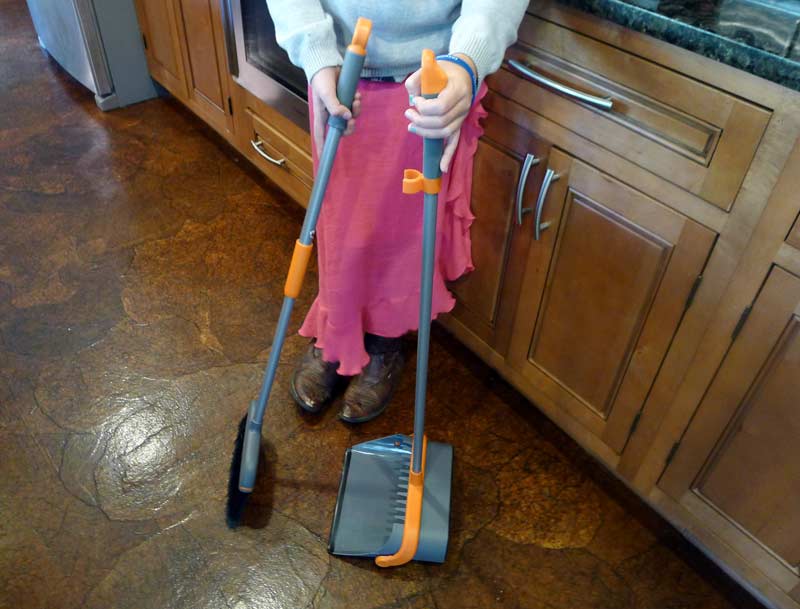 I like the built-in dustpan because I don't have to bend down to use a traditional dustpan with this. Buy the Compact Upright Sweep Set on the Casabella website for $24.99 and on Amazon.com.
My home is a dust magnet. I don't know it if it because of our continuous home remodeling projects or my dog that runs through the house but I have to dust often. I've tried several types of dusters and really like the Everywhere Hand Duster.
This duster can get into every spot of your house with the pivoting head and swivel handle. What I like most is the microfiber head – it attracts dust and dog hair quickly and holds onto it. This duster can be hand washed too, saving you money compared to the throw-away kind. My kids usually dust as part of their chores and they also find this easy to use. 🙂 It works great, so I know they will do a good job, even when guests are coming over for the holidays.
You can purchase the Everywhere Duster for just $7.99 on the Casabella website and on Amazon.com.
When was the last time you looked at your toilet bowl brush and holder? Seriously, it is probably really gross if you look at it. Upgrade to the Stainless Steel Swivel Combo Bowl Brush.
It is so smart – way better than the old, gross kind. The base swivels 360º for easy storage, allowing you to hide the plunger out of sight.  Plus, the plunger base is raised to allow for quicker drying – you don't want nasty water collecting.  I also like that the lid opens when you start to pull the brush out and then closes when you put it back – no touch.
I believe every bathroom needs a plunger, especially the guest bathroom. Nobody wants the embarrassment of a toilet overflowing but it is essential to have a plunger if it does! This unit keeps it concealed but available if necessary!
You can purchase the Stainless Steel Swivel Combo Bowl Brush for $39.99 on the Casabella website and on Amazon.com.