As busy moms, we deserve both style and comfort from our shoes, right? We are always on the go, working, chasing our kids, taking care of our home, and never have a moment to sit and relax.  I have suffered from sore feet for years and years until I started searching for shoes that would give my feet the support they need like the new pair of Clarks Cloud Steppers that I added to my Fall wardrobe.

I received product to facilitate this post.
When I first put on Clarks Cloud Steppers on, I felt just like the name describes, like I was walking on clouds. They are super soft and comfortable, almost like slippers! They don't look like loungewear though! Clarks Cloud Steppers are available in 7 colors, each modern and streamlined to compliment any outfit this Fall.
My feet are large, size 11, yes, very large. I have a difficult time finding a comfortable shoe that doesn't look like a boat on my feet. I like the shape and style of these shoes. The contour top and fabric around the top gives a slimming illusion.  They look nice with dress pants, jeans, and even with a casual skirt.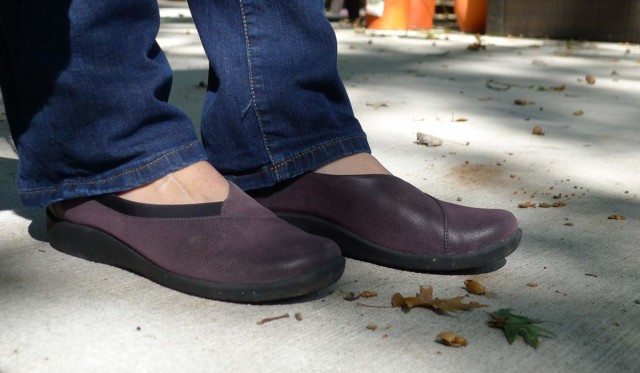 Let's get back to the comfort because that is my absolute favorite part about Clarks Cloud Steppers.  This shoe is designed for comfort and support with soft fabric linings and an OrthoLite cushioned footbed. I find my feet supported even while wearing these shoes all day long.  My feet, legs, and back don't ache like they do after wearing unsupported shoes all day. I wear them all day, including while walking our puppy!
My feet get really tired if my shoes are too heavy too, the Cloud Steppers are very, very lightweight. I think that is part of the reason why they are called this name, they make your feet feel light as a feather floating on a cloud. 🙂  They are seriously lightweight.
Whether you wear these shoes at work, walking for fitness, or wearing as a casual daily shoe, I feel like Clarks Cloud Steppers are a great way to step into Fall.
Get social with Clark on Facebook.