When we bought our home, it came with radiant base-board heat. It heats well but gave no way to clean air in our home. My entire family suffered with allergies pretty bad the first year. My son's pediatrician said he couldn't help him any more, that he would have to go to a specialist.
We did research on allergies and how to create a healthy home. We installed solid smooth floors in my son's bedroom  and my daughter's. We stopped allowing our dog to sleep on his bed or even be in his bedroom.  This has enabled me to keep their floors noticeably clean compared to the old, dirty carpet that was in their rooms before. We also learned the necessity of an air filtration system.
Clean Air in Your Home with Air Filtration System
I also learned that an air filtration system is essential – year round.  Did you know that the EPA states that indoor pollution is 2-5X higher than outdoors? Indoor air pollution is one of the top 5 urgent environmental risks to our health. An air filtration system will get rid of outdoor pollens and allergens and well as clean your indoor air from pet dander, dust mites, pollen, and other particles.
We decided to invest in an air filtration system – before seeing an allergist and taking even more allergy medication. For most, you can add an air filtration system to your forced air system inexpensively. For us, it was a major investment since we didn't have a forced air system or even duct work! Thankfully we did this last year while we were in the midst of our major home renovations.  We were able to hide all the new duct work in downstairs and upstairs closets and in ceilings with the exception of the below photo which is located in our guest bedroom. When we remodel that room, we'll cover this eyesore with new drywall.
Our air handler system is located in our upstairs hall linen closet. It's huge but well worth the closet sacrifice. I would much rather have clean air in my home than a place to put towels and blankets!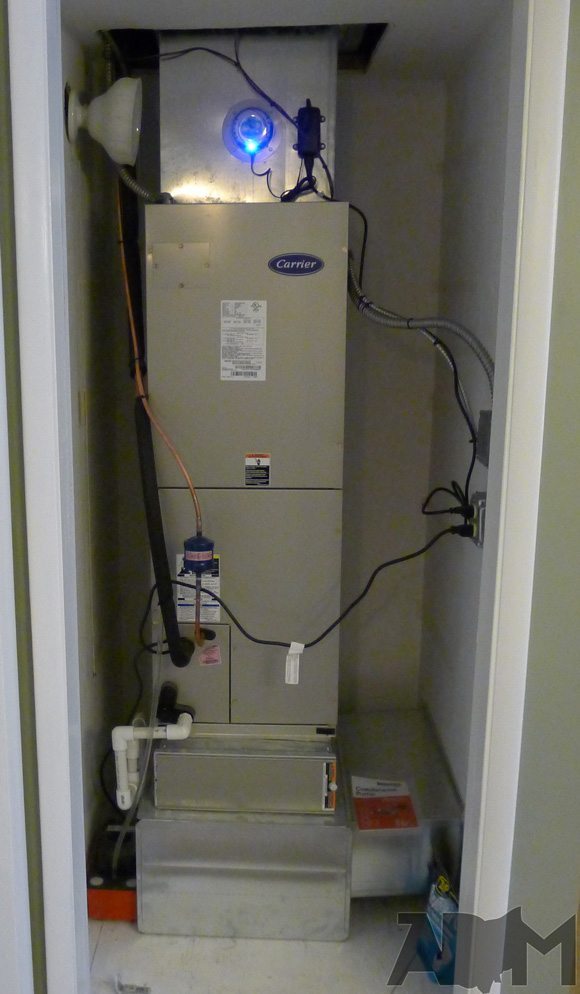 We added a 4″ filter system to clean our air year-round and use Filtrete Filters. You are suppose to change your filters at the change of each season. With all the home remodeling we do, we change them more often because of the dust we create.
Whether you shop at Lowe's, Target, Walmart, or your local hardware store, you'll find Filtrete Filters that will fit your furnace or air filtration system. Find your local Filtrete Filters retailer here. Filtrete Filters are the most trusted brand, offering 4X the filtration than the cheap pleated filters. Filtrete Filters are designed to clean air in your home by trapping airborne dust, allergens, bacteria, and viruses.
Since adding the air filtration system and changing our Filtrete Filters as recommended, our allergy problems have all but disappeared. Last year, my son missed more school, went to the doctor at least once a month, and was on multiple medications for allergies. This year, my son hasn't gone to the doctor one time for allergies, isn't on any allergy medication, and is allergy free.  The rest of us are feeling better too. It was quite the investment for us but 100% worth it. The simple changes like keeping our dog out of the bedroom helped too but we noticed the majority of the changes when we decided to create a healthy home by cleaning the air. For you, it may just be a simple investment of buying better air filters.
Filtrete Ultimate Allergen Reduction Filter
We will be switching to the Filtrete Ultimate Allergen Reduction Filter in time for Spring. This filter captures up to 93% of household dust, pollen, mold spores, and dust mite debris. I'd rather it be trapped in the filter than flying around our home to breathe in!
It also traps 4X more microscopic particles like smoke, smog, pet dander, bacteria, and viruses than the pleated cheap filters.
The cost around $19.99 (available online) and should be changed every 3 months. It is an investment that will help your whole family breathe better.
Filtrete Healthy Home Remodel Contest
Do you need to create a healthy home?  Filtrete wants to help you address your indoor air concerns with the Filtrete Healthy Home Remodel Contest. Filtrete is partnering up with Mike Holmes, a renowned HGTV contractor for this contest. The winner will receive $30,000 worth of home inspections, repairs, and renovations by a Holmes Group approved contractor!
There will also be 4 first-prize winners of $5,000 cash for home repairs.
You can enter the Filtrete Healthy Home Remodel Contest now through June 30, 2013 on the Filtrete Facebook page.
Like Filtrete on Facebook and explain in 1,000 words or less why your home deserves the healthier home remodel. You can upload 2 pictures to prove your case as well.
We would love to hear if one of our fans wins this contest, please let us know!
You can also follow Filtrete on Twitter for valuable tips and more.
Filtrete Healthy Home Club
I am part of the Filtrete Healthy Home Club and will be talking with you this year about how you can create a healthy home with clean air in your home too. Simple steps like changing your air filter with Filtrete Filters at the beginning of every season can make a world of difference in not only your family's health but the cleanliness of your home.  I look forward to sharing tips and tricks all year long with you.
This was a paid post. My own opinions were used based on my perceptions and experience. Thank you to 3M for the ongoing partnership with AkronOhioMoms.com