Have you ever wanted to dress your dog up to look like a zebra? How about for holidays like the Halloween? How about for parades? Now there is a fun and easy way to give your dog a new identity with PetPaint. PetPaint is a temporary colored hairspray for dog – or furspray. PetPaint is new and is totally dog safe and veterinarian approved.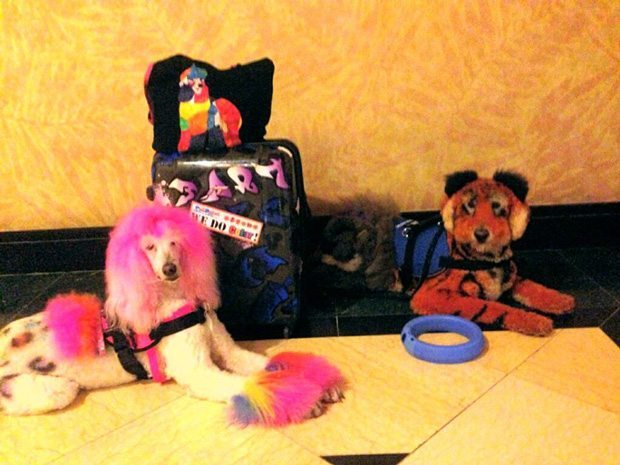 I received samples to facilitate this post. We tried PetPaint out on our puppy Roxy. You can buy the furpaint and design something freestyle or even use stencils. We opted for stencils.

Elijah started with a pawprint. It was easy for him to do but I had to hold the stencil while he sprayed. Roxy wasn't sure what was going on and didn't like the sound of the spray too much. It is something that needs to be gently introduced to dogs. I think that with practice, she will be more comfortable with it.
Elizabeth added a heart next. I held the stencil and Elijah closed Roxy's eyes so she wouldn't see what was going on! 🙂 She wasn't upset, just nervous. I wouldn't make my puppy do something she didn't want to do. But we did only do the 2 stencils for this first time since she wasn't so sure about it.
She has a hot pink heart!


Roxy isn't thrilled about all the attention, but it was cute for the day. PetPaint washes off with mild soap and water or you can let it wear off but it will rub off on anything your dog lays on.

We will try again, there are so many neat designs that could really be fun to try on Roxy – like Tiger stripes! Maybe she'll dress up for Halloween with PetPaint!
You can buy PetPaint on the PetPaint website for $10 a bottle.
This was not a paid post. My own opinions were used based on my perceptions and experience. Thank you to PetPaint who supplied the products for the review.