This weekend, we had 5 yards of topsoil mix delivered to our house. We use 1-1/2 yards in our new Backyard Botanical Oasis Garden while we plan to use the rest to build flower beds around trees, and fill in ruts and low spots throughout the yard. When getting that much topsoil delivered, we usually work ourselves like crazy trying to get it all done in one day. Our kids love the outdoors so they are normally able to entertain themselves on the playground, in the woods (within eye sight), or on the porch.
The kids thought that 5 yards of dirt was amazing fun! I think Elijah was trying to see just how dirty he could get!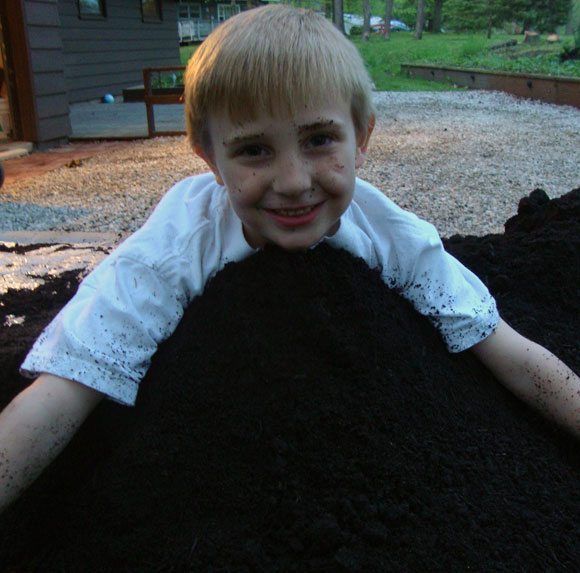 I had been at my parents house the day before the dirt arrived, splitting some hosta plants to plant in our yard. I left one of our shovels. I didn't realize this until the topsoil was delivered. My husband is great, he didn't utter a word about only having 1 shovel to move 5 yards of topsoil or take me up on the offer to help shovel some of it. He's such a gem. I try to help as much as I can in the yard, I just enjoy it. However, he normally fills the wheelbarrow and dumps it throughout the yard where I spread it in the gardens. We have a good system. 🙂
Elizabeth caught her very first salamander. Until now, she has caught worms, a toad, and some bugs, but that is about it. Elijah is normally our salamander catcher. She was so proud of accomplishment!
When we moved into our home last Spring, there were no flower beds in the yard. Actually, there was no yard, we planted 1 acre of yard, by hand, all summer long last year. So, this is the year to start my flower beds. Since we have a walk-way and flat roof around the entire house, there is no place to plant gardens around the house.
I planted some flowers earlier this Spring that my mom and mother-in-law gave me, without digging up the dirt and moss around the beds. Not exactly the way it should be done but I had a lot of plants to get into the ground.
Elijah has a new hide-out in the woods, underneath an apple tree. He decided to help me dig up and move the moss from 4 trees in the front yard. We moved all of the moss to make a soft, cushy floor under his hide-out. I was happy to keep him occupied, happy, and was thrilled to have a helper.
Then, about a hour into our dirt moving and flower bed making, my kiddos started to fight. Yeah, they aren't angels, are yours? LOL We had a lot of dirt left to move, so I really couldn't stop everything to entertain them. Then I remembered Beth's article last week, Make Hay While Your Kids Play–Simple Ideas to Keep Kids Busy Outside Brilliant idea! Let the kids paint outside. I went inside to gather finger paints but couldn't find a large piece of paper or cardboard that I thought they would enjoy doing outside…how about the trees? Yep, my kids used finger paints, with a brush, to paint the trees in the front yard.
I figured it wouldn't hurt the trees, my kids were already in play clothes, it made them happy, so why not? They had a great time painting all of the trees in the front yard, rocks, and even grass. They even discovered that when they mixed their blue and yellow paints that it made green.
It got dark before I could take any more pictures of the flower beds we built, I'll have to post later. And ever since then, it's been cold and raining. So, the remaining 2 yards or so of dirt is sitting covered in our driveway. I only hope that it isn't a giant pile of mud when we lift that plastic to finish filing in the low spots in the yard!