It is hard to believe that 1 in 6 people in America don't know where their next meal will come from – that is 12 million children!  1 in 7 people in the United States turn to the Feeding America food bank network for assistance with food.
Wow! That is a LOT of hungry people. It could be a next door neighbor, co-worker, one of your children's friends, or even you.
Walmart is partnering with six of the nation's largest food companies – including General Mills, Unilever, Hormel, ConAgra Foods, PepsiCo/Quaker and Kellogg Company and Chef G. Garvin to provide $3.7 million in grants to Feeding America Food Banks!
Walmart's Fight Hunger. Spark Change. Campaign will provide hunger relief to millions of hungry Americans and you can help!
This is a sponsored conversation for Walmart.
Fight Hunger. Spark Change. #Vote2FightHunger
Through the Fight Hunger. Spark Change. Campaign, Walmart will be donating 37 million meals to Feeding America food banks and local agencies throughout the United States!
Walmart is inviting you to vote for your local food bank to help fight hunger locally. We have an amazing local food bank here in Akron!
The Akron-Canton Regional Foodbank has provided 24 million pounds of food to 180,000 individuals in Summit, Stark, Medina, Wayne, Tuscarawas, Portage, Holmes, and Carroll counties last year alone! Please vote for this food bank with the Walmart campaign. It's so easy to do and only takes a minute!
I also encourage you to consider donating your time or money to the Akron-Canton Reginonal Foodbank or a foodbank in your town. It is so rewarding to know you are helping those in need. Even kids can help! Last month, we invited AkronOhioMoms.com fans and their kids to join us at the foodbank to volunteer.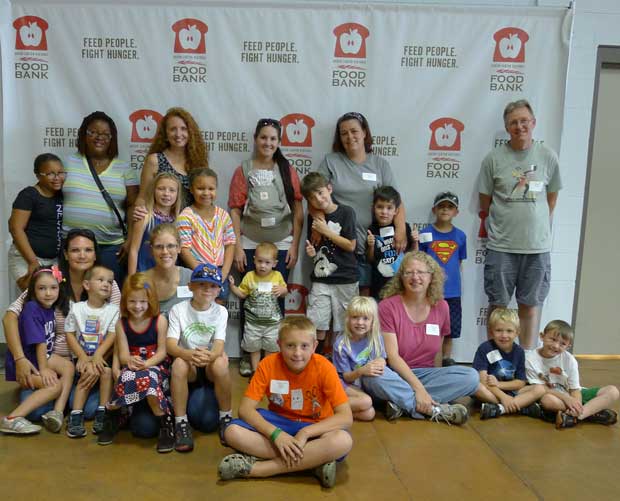 We had a fantastic time labeling 1,200 bottles for their soap program. It was so much fun. What I liked best is how excited our kids were to help. Kids have such generous, caring natures, we need to encourage this in our children.  Volunteering is such a rewarding experience for kids and adults alike. We all left feeling good about helping and many have signed up for future volunteer opportunities with their families.
Walmart has committed to donate $3 million to 50 local food banks for this challenge. (Right now Akron-Canton is #36!!) From now through October 5, 2014, you can vote once daily on which food banks will get the grants to help their communities. Each winning food bank will receive a $60,000 grant!
Chef Garvin remarks how the "Walmart's Fight Hunger. Spark Change. Campaign is making it simple and fun for the public to get involved and will help ensure all families have access to the healthy and nutritious food they need."
He supports this cause and so does leading companies that are partnering with Walmart including
They are all supporting food banks and local partner agencies across the country with Walmart's Fight Hunger. Spark Change.
Spread the Word about #Vote2FightHunger
You can help spread the word about and win great prizes at the #Vote2FightHunger Twitter Party on September 30, 2014 at 1pm EST. RSVP here and use #Vote2FightHunger while tweeting.  If you are new to twitter parties, check out my post on How to Attend a Twitter Party – it's fun and easy!