If you enjoy tubing in the snow but can't find a reliable snow tube, I have the solution for you!  The  Sick Sled Indestructible Inner Tube Sled allows you to enjoy snow tubing with a product that is never going to break or tear and leave you sled-less on your favorite sledding hill.
The Sick Sled snow tube is Hand Made in the USA with quality craftsmanship. The snow tubes are are actual Doberman brand 10.00R20 tractor trailer inner tubes. If the inner tube can support a tractor, it will definitely hold your snow tubing group!  The inner tube is covered with a thick 18 oz vinyl coated poly with heavy stitching and an industrial zipper. There are 7 heavy duty handles around the perimeter of the snow tube.  You can see below how heavy duty and durable these snow tubes are!
[slickr-flickr tag=stitchingsicksled]
The Sick Sled Indestructible Inner Tube Sled is built to last for all your snow tubing adventures for years to come!
Sick Sled Indestructible Inner Tube Sled Video Review
Sick Sled Indestructible Inner Tube Sled Review
We took the Sick Sled Indestructible Inner Tube Sled snow tubing on one of our favorite sled riding hills near Akron, Ohio, Kendall Hill.  Virginia Kendall Hill offers 6 sledding hills of all sizes and the perfect place to review the Sick Sled!
The first thing you'll notice is the size of Sick Sled snow tube, it is enormous at 55″!  We actually drove our mini-SUV with the sled in the back and drove our kids in our second car to the sledding hill.  If you have a mini-van, you should be fine though.  This is an inflatable tube that can quickly be inflated at your local gas station.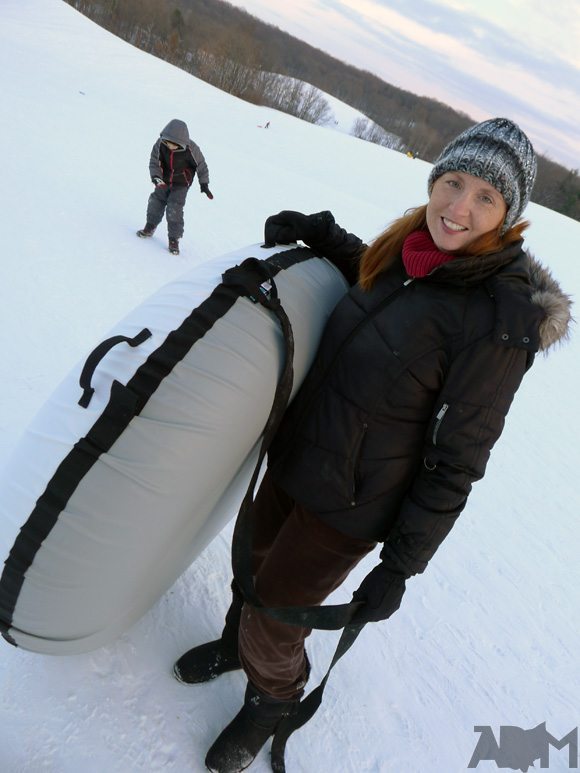 You'll also immediately notice the quality of this hand-made in the USA product. It's actually made in Ohio, which is even better! I've has other inflatable tubes for sledding and every year, they bust, break, or develop a leak.  The Sick Sled Indestructible Inner Tube Sled is virtually indestructible so you know you'll be able to enjoy it for years to come!
One you pile on the Sick Sled, you are in for a ride! The most we had on the Sick Sled was 6 people – see below.  Virginal Kendall Hill is awesome for snow tubing, the hills are huge! The largest hills has quite a few big bumps but with the Sick Sled, we just floated over them. I love that the Sick Sled provides a smooth ride on a big pillow of air. You don't feel the bumps and jolts that you do with other snow tubes and sleds.  The Sick Sled travels far down the hill too!
While sledding and snow tubing with kids, I have always felt a little uncertain about the safety of sledding with my kids. I feel very safe while on the Sick Sled because it is so large, there are plenty of handles, and there is plenty of room for everyone. Everyone is secure in their own space on this huge snow tube!
Our whole family could actually fit on the Sick Sled! Elijah's friend and family were at the sledding hill and decided to test the Sick Sled out too. We had 6 kids on the Sick Sled inner tube sled at once and everyone was able to hold onto a handle!  I love that there are 7 large, sturdy handles on this snow tube!
[slickr-flickr tag=sicksledhill]
The kids had a blast going down the huge sledding hill together, turning a couple times so everyone had a chance to be forward, sideways, and backwards!
Being that the Sick Sled is 55″ large, you may be wondering how it is to tow up the sledding hill. I worried about the same thing! I was very, very impressed at how easy it was to bring the sled back up the hill!
[slickr-flickr tag=towingsicksled]
The Sick Sled comes with a long, sturdy lease that attaches to the inner tube sled. You can pull it up the hill like we did in the picture above or attach the lease to the other lease loop (similar to the handles) to pull it up. We didn't actually see the other lease loop until we came home but using it as a long lease worked just great.  Even kids can pull the Sick Sled up the hill, although they would rather try hitching a ride! 🙂
If you enjoy going snow tubing and would like an snow tube that your whole group can enjoy going on together without breaking, check out the Sick Sled Indestructible Inner Tube Sled!  If you are local to Ohio, there is the added benefit of supporting a local business!
Buy Sick Sled
You can buy the Sick Sled Inner Tube and Cover on the Sick Sled website for $119.99 or email steve@sicksled.com.
This was not a paid post. My own opinions were used based on my perceptions and experience. Thank you to SickSled who provided the product for review.