My daughter was recently diagnosed with intermittent asthma which means she is only affected when something like an illness or allergens trigger it.  My son has several allergies, both indoors and outdoors. We also have a dog, a very hairy dog. This is not a good combination.
We work hard to keep dog hair and dust under control in the house. My son is allergic to dust, so it is important to keep a tidy home. That being said, no house is 100% free of dust, dander, mold spores, pollen, and other allergens that can trigger a response in us all but especially those with asthma and allergies. We have to take our efforts a step further, especially in their bedrooms where they spend most of their time.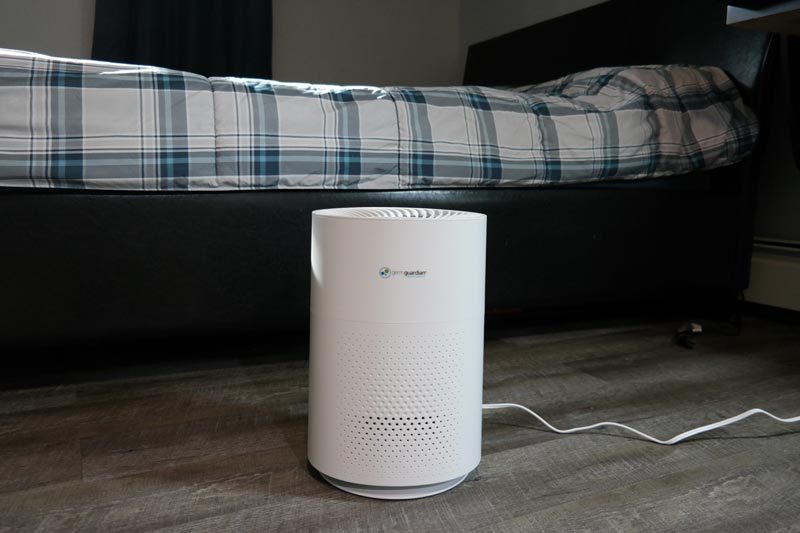 I'm excited to introduce to you a product that my kids have already benefited from, their GermGuardian AC4200W 13″ HEPA Filter Air Purifier.
As a mom, I do as much as I possibly can to prevent illness and discomfort for my children. What I love about this air purifier is that it can help both my daughter with her asthma and my son with his allergies – year-round. It is ultra-quiet too so they don't even notice it is on.
I started the air purifier in my daughter's room as her asthma really flared up with the bronchitis. Against our better judgement, over the last couple years, my husband and I started allowing our big, hairy dog to sleep in our kids' rooms and now she jumps on their bed at night. Not good for asthma or allergies. That being said, if my kids were in a severe condition, I'd kick the dog out but they are not.  I like that this air purifier helps with dog dander as well as other allergens and bacteria that can trigger my daughter's asthma.
Like I said, it is very quiet. There are 4 settings, the sleep mode is ultra-quiet, you won't even notice it.
There are 4 settings, even on the highest, it is not loud or noisy like other purifiers we've had in the past.  The best part of this air purifier is that it circulates the air 4X per hour in a 105 sq. ft. room. That's pretty clean air!  With most of the time at home spent in their bedrooms sleeping, doing homework, or hanging out, we keep this GermGuardian HEPA Filter Air Purifier on almost 24/7.
It is a small, compact size so it doesn't take up much space in rooms either.
I like this unit so much that I am getting one for my son too. It'll be extra helpful when his seasonal allergies kick in but for now, it'll combat the dog dander, dust, and other allergens lurking in his bedroom.  On another note, this air purifier also combats odor – as we all know, dogs can get stinky. This helps!  It also helps if you have cooking fumes, smoke, or other smelly things going on in your house with the activated charcoal filter.
I can see most homes benefiting from this air purifier, whether you have a dog or medical conditions or not. For instance,
the average 6 bedroom house collects 40lbs of dust per year. I'm ashamed that I found a ton of dust in my son's room when I was taking pictures today. It was under his desk chair, so if you are standing up, you'd never see it. This is how dust can be found even in a room you try to keep dust free. NASTY!
By the way, if you have dry air in your bedrooms, you should add a humidifier because the dry air can actually cause more dust. We have been enjoying their humidifiers (especially the last 5 weeks as we have all had bronchitis!)
Mold thrives in dry environment too, believe it or not. Mold spores travel through the air so even if you don't know you have mold in a room because it is hidden under carpet, etc, it can still affect you, especially if you have conditions like asthma.
This local Euclid, Ohio company, Guardian Technologies has a variety of home products to make your home healthier and more comfortable, check out their website. We've been enjoying the warmth from their tower heater as the evenings have suddenly gotten very cold too.
Purchase GermGuardian HEPA Filter Air Purifier with Guardian Technologies Promo Code
You have the chance to purchase the GermGuardian HEPA Filter Air Purifier at a discount with the Guardian Technologies promo code for AkronOhioMoms fans: AKRONMOMS20.