Every year more than a million kids are poisoned by common household chemicals in the USA. If you are looking for an All Natural Pest Control solution for your home, try EcoSMART.  EcoSMART is the organic pesticide brand I trust. When Steve Bessette heard that he and his wife were expecting twins, he had the desire to protect his family from the toxic products available. He founded EcoSMART and has been transforming homes from toxic to toxic-free ever since.
15 years later and EcoSMART delivers the world's safest, and most effective pesticides made with natural ingredients. The products are 100% safe and work.
EcoSMART Safe Home Value Bundle Hands On Review
I was thrilled to work with EcoSmart again to promote their Safe Home Value Bundle. This bundle contains:
Ant and Roach Killer (14 oz can)
Home Pest Control (24 oz spray bottle)
Flying Insect Killer (14 oz can)
Insect Repellent (6 oz bottle)
EcoSMART All Natural Pest Control
I love that their pest control is all natural and safe to be used around my kids and pets.
Organic Ant and Roach Killer
We live in the woods and often have unwanted guests like ants, spiders, and other crawling insects that I didn't even know lived in Ohio! With the Ant and Roach Killer I can easily get rid of these pest safely in my home. This product kills insects on contact. Plus, there is no leftover pesticide residue that can harm my kids or pets. The ants and scary spiders are gone instantly!
Organic Flying Insect Killer
I've never had so many pest in my home and honestly didn't know how to get rid of them safely from my home. Whether you live in the woods or not, there are times when you need a safe and effective pest control solution for flying insects like flies, gnats, mosquitoes, wasps, moths, etc. We have had a huge gnat problem. I don't know where they come from but I cannot get rid of them. I was thrilled to receive the EcoSMART Flying Insect Killer to give it a try. This is an excellent product for killing yellow jackets too!
Since my main problem with gnats was in my kitchen, I was reluctant to try anything with chemicals. The EcoSMART flying insect killer is an organic insecticide that is non-toxic and safe to be used around kids and pets. But does it work?! YES! One spray and the gnats were goners. Plus, it left a light scent of peppermint and cinnamon not a chemical smell!
Organic Home Pest Control
What I like about the Organic Home Pest Control is that it can be used both indoors and outdoors.  It kills and REPELS more than 100 invading pests including:  Ants (including Carpenter, Red Harvester, Pavement and Argentine), Beetles, Centipedes, Cockroaches, Crickets, Earwigs, Fleas, Millipedes, Pantry Pests, Pillbugs, Silverfish, Spiders, Sowbugs, Ticks and other crawling insect pests.
I use the organic home pest control around the entire house outside to create a barrier between my family and home and the insects that want to come inside.
EcoSMART Insect Repellent Organic Mosquito Repellent
We started using the EcoSMART organic mosquito repellent this Spring. We use it all of the time and have introduced it to many people that have visited our home this past season. People like the fact that it is organic, non-toxic and safe for even kids. I like it because it really works!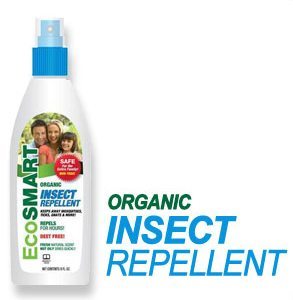 The EcoSMART Organic Mosquito Repellent is an all-natural formula is made from organic plant oils. It keeps your entire family safe from annoying mosquitoes, ticks, gnats, and other pests for hours. The EcoSMART's Organic Mosquito Repellent has a light, fresh scent that disappears after applied.  What you smell and what is working are the natural ingredients of Rosemary Oil, Cinnamon Leaf Oil, and Lemongrass Oil.  The all natural repellent dries quickly and is non-oily. It is Deet Free.
Buy EcoSMART Safe Home Value Bundle
You can buy the EcoSMART Safe Home Value Bundle online for $24 ($31 value). You can also buy EcoSMART products nationwide.
Win EcoSMART Safe Home Value Bundle (closed)
Updated: 11-8-10 Winner Announced: Congratulations, Connie Black, entry #1.
EcoSmart has generously offered to give one winner their own Safe Home Value Bundle. ($31 value)
Required Entry
To Enter: You must visit EcoSMART.com and leave a comment below on another product you would like to try or something you learned.
Increase your Chances of Winning with Extra Entries
Leave an additional comment for the value of each extra entry and a way to verify the entry.
"Like" AkronOhioMoms on Facebook (posting a comment is appreciated but not required)
Follow AkronOhioMoms on twitter
For 2 extra entries every day, comment on my TV Demo of my Pillsbury Contest Recipe (voting not required but APPRECIATED)
For 1 entry each, up to 2 X a day, tweet my Pillsbury Finalist status for up to 2 extra entries every day! Copy and paste: Vote for mommy blogger Cindy Orley & you can win $5,000 http://bit.ly/dmnKWS #sweepstakes #contest
Tweet about this giveaway. Tweet daily for an extra entry every day! Copy and paste: Win EcoSMART all natural pest control home bundle https://www.akronohiomoms.com #contests #sweepstakes
For 3 entries, comment on any Total House Remodel post
For 5 entries, blog about this giveaway on your website and link back to AkronOhioMoms.com
For 3 entries, Stumble Upon this post with button on top of screen
Join us with Google Friend Connect (on the sidebar)
Cast a vote for us on Top Baby Blogs
Rate my site on Top 100 Mommy Blogs

Leave one new comment on any other post or giveaway
For complete contest rules, please see our Contest Statement and Blog Disclosure.
Contest ends at 11:59pm EST on November 5, 2010 when a winner will be drawn at random and announced the next day. When commenting, please include your email address (not visible to public). I will notify the winners and they will have 36 hours to respond!
This was not a paid post. My own opinions were used based on my perceptions and experience. Thank you to EcoSMART who provided the products for review & giveaway.