Summer is here and along with it comes nasty and sometimes dangerous mosquitoes, ticks, and poison ivy! As a mom, I want to protect my kids from the pain and danger associated with insect bites and rashes! Also, moms want products that are safe for kids and natural. I found a product line from Quantum Healthy that protects kids and families with a natural product. We want to protect our kids from bites and even worse the West  Nile Virus and Lyme Disease that these insects carry. Many insect repellents provide protection with a hefty cost as they contain DEET. This chemical can cause toxic reactions. Protect your family and kids with a natural product that has been shown as effective as those containing DEET but without the risks. I'm happy to share my findings with you.
Buzz Away Extreme Natural Insect Repellent Hands On Review
I kid you not, as soon as I sprayed the Buzz Away Extreme Natural Insect Repellent Spray on my 5 year old, he said, "Mmmm, it smells good!". This is the same kid who usually runs from me when I get out the insect repellent and complains like I'm hurting him. lol Scent is important when talking about insect repellents because so many are  nasty and lingers until it is washed off. The scent is pleasant and natural, not overwhelming at all. Plus, the scent just about disappears after it dries. That is just my personal experience, nothing noted on the bottle.
The Buzz Away Natural Insect Repellent Spray will give your family 4 hours of protection against mosquitoes, gnats, black flies, no-see-ums, and fleas. I thought about posting a picture of my kids legs when we forgot the repellent spray for just one evening, but thought I'd spare you the ugly site!
This season, both my kids and I had an unwanted visitor on our scalps. Yes, I'm talking about TICKS! CRAZY! We are fine but I was not a happy mom when I found a tick on each of my kids' heads. It was after being in the woods. I've never had that happen before. With the Buzz Away insect repellent, we now have 2 hour protection against TICKS! I won't use any other insect repellent now, it's Buzz Away from now on! I wish I had it earlier this summer.
We use insect repellent on a daily basis since we are outdoors constantly. We are especially diligent to use it when we go to the park or in the woods where we aren't sure how bad the mosquitoes are. What I like about this product is that even if I do use it often, I can be sure that it is safe for my kids. It is a natural insect repellent. The active ingredients are: Castor Oil, Geranium Oil, Soybean Oil, Cedarwood Oil, Citronella Oil, Peppermint Oil, and Lemongrass Oil.  I think the smell comes from the Lemongrass.
This product is safe, DEET free natural insect repellent for families. Also, did you know that DEET repels fish too? If you love to fish, don't use a DEET repellent!
Buzz Away Extreme Natural Insect Repellent Towelettes
The Buzz Away Natural Insect Repellent Spray product is now available in towelettes. This is a super convenient way to keep insect repellent with you without spillage and all the bulk. Just tuck a few in your purse or diaper bag and you'll have the natural insect repellent with you no matter where you need it. Each box contains 12 individual towelettes with all the benefits as the spray.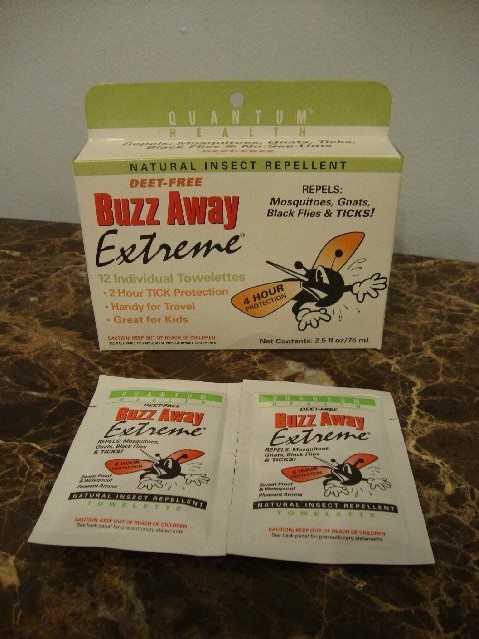 The natural insect repellent towelettes are large as you can see in the picture below. You can easily wipe down a few people with one towelette. I was able to use one towelette for our family of 4. You can also wipe down your clothes for extra protection. After handling the towelettes, it is advised to wash your hands. Each towelette contains a nice portion of the repellent so of course after handling the wipe, your hand will have extra solution and extra protection on it!
Buzz Away Natural Citranella Candle Review
The Buzz Away Natural Citranella Candle is a handy little container that delivers protection for 20 hours! It is all natural made up pure essential oils, 100% vegetable with no petroleum or beeswax.  It has a pleasant, mild scent. You'll love the size. It's quite small for an effective 20 hours of protection. Buy a couple and keep one in the car. It is perfect for evenings in your backyard, while camping, fishing, boating, at the beach, or just enjoying a picnic at the park.  It delivers powerful protection in an easy, small canister.
We've used it in our backyard several times now and still have more candle left. We live in the woods so there are always bugs buzzing about ready to bite us. We were actually able to enjoy sitting outside without being attacked with this small candle lit!
Quantum Itch Nix Gel Review
After moving to the woods, we have encountered poison ivy and poison oak very quickly and often. We've since cut down as many vines as we can find but still get find bumps here and there.  Even when we try our hardest, we all end up with a patch of poison ivy rash on us. Kids have a great ability to get covered in poison ivy.
I've tried many products, this summer in fact, for poison ivy relief. I've not found anything better than Quantum Itch Nix Gel. It helps with the itching and pain associated with the rash and swelling. My son's skin really swells up, I'm glad I was able to calm his poison ivy with this product. Plus, after you get relief with this natural poison ivy gel, it also stops the spread of the rash! It is the potent B Vitamins, Camphor, Echinacea and Calendula Extracts in Itch Nix that provides a cooling relief immediately. It has a mild menthol and mint smell that is mild.
Quantum Health Products
Quantum Health Products carries a full line of products for all your care needs that are natural. Their products stand up to their slogan, "Natural Products That Make a Difference". Once you too become a believer in Buzz Away, submit your mosquito video for a chance to win $1,000.
Buy Quantum Health Buzz Away Products
Find a store near you that sells Quantum Health products by entering your zip code. Grab a coupon for $1.50 off here. You can also buy their full line of Quantum Health products online (online prices a a little less expensive).
Buzz Away Extreme Towelettes 1 Dozen,   List Price $8.99
Buzz Away Extreme 4 oz Spray, List Price $9.99
Buzz Away Citronella Candle 20 Hour Candle, List Price $7.49
Itch Nix, 4 oz 4 oz Gel, List Price $6.99
Win Quantum Health Buzz Away Products (Closed)
Updated: 7/29/10 Winners Announced: Lo Entry #39, Chrystal Entry #84, and Dawn Entry #3.
Quantum Health has generously giveaways to 3 lucky winners! Each winner will receive 2 products for a giveaway:  Buzz Away Extreme Towelettes 1 Dozen and Buzz Away Extreme 4 oz Spray ($19).
ENTRY #1: You must visit the Buzz Away website and leave one comment below on something you think looks fun.
---
Extra Entries
(do as many as you wish and leave a corresponding comment below)
Please be sure to do Entry #1 above or all extra entries do not qualify.
For 5 entries, blog about this giveaway on your website and link back to this article and to Buzz Away website.
"Like" on Buzz Away Facebook (posting a comment is appreciated but not required)
"Like" AkronOhioMoms.com on Facebook (posting a comment is appreciated but not required)
Follow Buzz Away on twitter
Follow AkronOhioMoms on twitter
For 2 entries each, get your friends to follow AkronOhioMoms on twitter (Leave their name(s) in comment if they start following me.)
Tweet about this giveaway. You can Tweet once a day for an extra entry every day! You can copy and paste: Win Buzz Away Natural Insect Repellent 3 Prizes! www.AkronOhioMoms.com #contest #sweepstakes
For 2 entries, comment on any Total House Remodel post and let me know which one(s).
Become an AkronOhioMoms member by joining us with Google Friend Connect (on the right sidebar).
Yahoo Buzz this post with button on top of screen
Google Buzz this post with button on top of screen
Stumble Upon this post with button on top of screen
Enter any other active contest and leave a comment on which one(s)
This contest will not disqualify you for any active contests. For complete contest rules, please see our Contest Statement and Blog Disclosure. If you ever have any questions on entering to win, just ask cindy@ akronohiomoms .com.
Contest ends at 11:59pm EST on July 28, 2010 when a winner will be drawn at random and announced the next day. When commenting, please include your email address (not visible to public). I will notify the winners and they will have 36 hours to respond!
This was not a paid post. My own opinions were used based on my perceptions and experience. Thank you to Quantum Health for the products for review and giveaway.