I'm still picking up back-to-school supplies for my kids even though I got everything on their class lists. Both my kids' teachers requested additional items on a volunteer basis. I gladly offer tissues with lotion for the harsh winter colds for the kids' poor noses and Wet Ones because they clean messy, germy hands better than liquid hand sanitizers.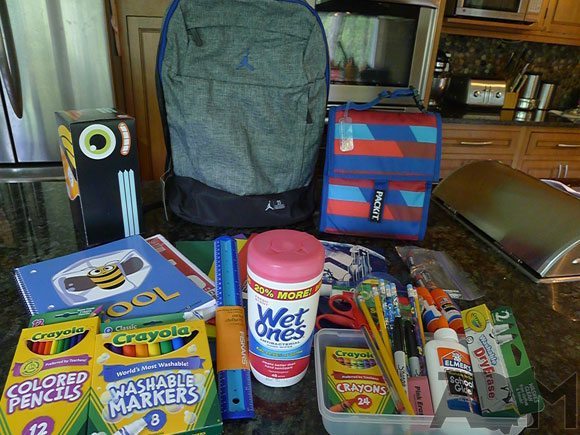 I participated in a campaign for Mom Central Consulting on behalf of Wet Ones. I received product samples to facilitate my review and a promotional item as a thank you for participating. I'm somewhat of a germ freak, I want to keep my kids as healthy as possible. For me, Wet Ones help me do this when I'm not with my kids at school.
At my kids' schools, kids are not given the chance to wash their hands before lunch, they are given liquid hand sanitizer. I don't like this at all because my kids end up with bleeding, sore hands by November because of all the alcohol. Plus, it doesn't clean the dirt and grime off their hands. I always pack a Wet Ones Singles in their lunch box. It is an easy solution.
Wet Ones clean better than hand sanitizer, they kill 99.99% of germs as well as wipe away dirt and messes off kids hands. Liquid hand sanitizers don't wipe off the dirt and grim on kids' hands.
I also stick a couple singles in their book bags too – for snack time and just in case. I started doing this last year and now my kids are use to it. They won't eat anything until their hands are clean. They are also great for wiping away germs when they have colds.
I know teachers don't like to ask for donations throughout the year, I try to remember to just send in extra supplies every now and then for my kids' classes. There is a website called TeacherLists.com designed for teachers to provide their classroom supply lists online. You can search for your own school. For instance, in the Akron zip code, St. Hilary's has their lists uploaded from Kindergarten through Junior High. It is a handy resource for both teachers and parents.
If your school isn't posted, they can easily upload the list following simple prompts online. If your school posts their supply lists and/or teacher wish lists between now and 10-15-13, they automatically receive a free school supply stash with $125 worth of supplies. Plus, they are entered to win a $5,000 teachers' lounge makeover if uploaded by 8-31-13.  Wet Ones has donated 15,000 products to teachers across the country to stock their classrooms.
Germs know no season…
Wet Ones are a staple in my household, in the car, at school, and especially when traveling. It is hard to believe that just 10 days ago, my family was relaxing on the beaches at Cape Cod. It was our last hurrah of Summer. I brought both a Wet Ones Canister and Singles to be prepared for anything. I popped a canister in my beach bag for the messy sand at the beach.
After kids were playing with seaweed, dead horseshoe crabs (see background of below picture), sand, ocean water, and who-knows-what, cleaning their hands was a MUST before snacking!
[exceptional-citing quoted="cindy-beach-2011-headshot" template="elegant" date="" ]For me, Wet Ones let my kids have fun and be kids while wiping away the fun germs to keep them healthy. [/exceptional-citing]
What kinds of supplies do you donate to your kids' classrooms?  Are Wet Ones on that list?