Have your sheets seen better days? It isn't surprising since we spend a third of every day in them and constantly wash and dry them. If you are in the market for new sheets, check out California Design Den sheets. Not only are they luxuriously soft and comfortable but they are affordable too.
This is a sponsored post. Some links below are affiliate links, meaning, at no additional cost to you, I earn from qualifying purchases.
California Design Den Review
We have a couple sets of sheets for our king-size bed. I knew it was time to shop for a new set when our current sheets have lost all shape, with the fitted sheet always come off the our mattress. Opening up this gorgeous set of California Design Den sheets was like a breath of fresh air.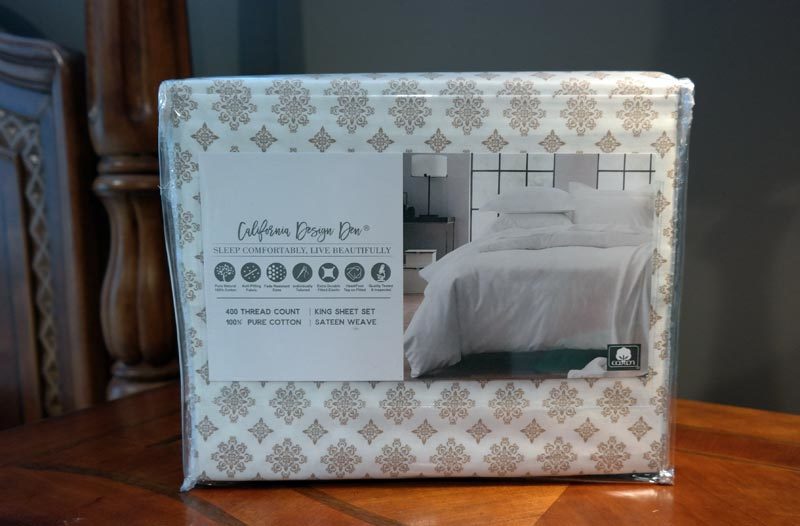 This is their 400 thread count king sheet set which consists of 1 fitted sheet, 1 flat sheet, and 2 king-size pillow cases. A 400 count sheet is light, airy while still of good quality. It is typical for a better-quality sheet, not a bargain brand.  California Design Den sheets are made of 100% cotton, offering a soft, comfortable night's sleep from day one. Cotton sheets are also very breathable which is very important if you sleep hot.  This sheet set has a silky sateen weave that gives the sheets a soft stretch that is especially important for the fitted sheet as it has some 'give' to it.
If you have ever fought with trying to figure out which side of the fitted sheet is the top from the sides, you'll love this extra little feature – smart food side indicator! This simple little tag at the bottom of the fitted sheet will save you time in making your bed – you won't be turning the sheet all around your bed trying to figure out what side is what. Plus, the elastic corners provide a secure fit so it won't roll up from the edges. If you have a deep mattress, you'll also appreciate the generous sized corners that fit up to 18″ deep pocket mattresses.
California Design Den sheets are made of fine materials and hand-stitched by craftsmen.
It is hard to photograph comfort. For me, the #1 reason that I'm promoting California Design Den sheets is because their sheets are sooo comfortable and affordable for all. I've avoided purchasing sheets because of the cost, it is obscene how expensive sheet sets can be at retailers. California Design Den cuts the price significantly by reducing the middleman, your sheets are shipped. You can purchase a very good quality King-size set for under $50! That is really hard to beat!
Don't you just love the feeling of getting into bed with new, fresh sheets? It is one of the best feelings in the world and makes it so easy to get to sleep. Sleep is important for everyone, at every age, so if a new set of sheets can improve your quality of sleep, think of it as an investment in your health – because it is 100% true.
And during these cold, snowy days, a nice set of sheets are always enjoyable to get cozy and read a good book too!
I love my Medallion Taupe printed sheets above, however this same set can be found in a number of other prints and colors to fit your bedroom's decor!
California Design Den sheets can be found at retailers like Wayfair and Nordstrom Rack but it is easier to purchase online with 100% satisfaction guarantee, risk free 30 day trial, and FREE standard shipping in the United States. You can purchase their best-sellers on Amazon too.