Styling a Christmas mantel can be easy and fun with a little focus and the right décor. I love how easy it was to create this coordinating themed mantel with the At Home store.
This is a sponsored post for At Home. All opinions are my own.
Easy Christmas Mantel Styling with At Home
Starting with a clean slate allows the freedom to take your mantel in any direction. Likewise, adding new elements to your existing decor can be a quick and easy way to style your Christmas mantel.
This is my clean slate "before" picture of my mantel.  As you can see, it is a small mantel, so I had to work within tight guidelines.
I make a quick trip to Sheffield Village to the At Home – The Home Décor Superstore to style my mantel. It is well worth the trip for their incredible selection and affordable pricing!
Styling your Christmas mantel is easy if you start with a central focus. This can be framed art, a floral arrangement, or other decorative pieces. I chose this Joy to the World framed art so that my mantel has a focus on the birth of Jesus Christ. At Home has lovely nativity scenes to choose from as well.
I like the look of greenery on Christmas mantels. Since my mantel is narrow, I chose to hang a single decorated garland of greenery from the mantel instead of on the mantel. 
The At Home store has a variety of greenery in the form of garland, wreaths, swags, and more. Choose from pre-decorated like mine or create your own.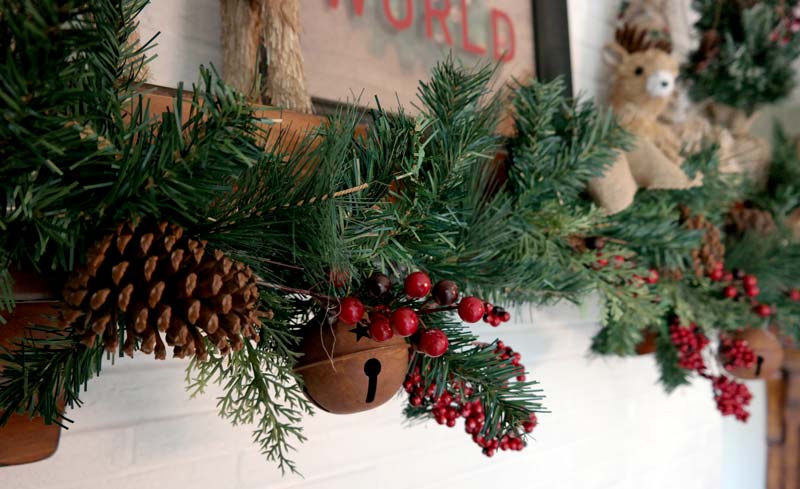 I chose to add these cute, whimsical deer to this year's mantel. They add a playful theme to my mantel that my kids like.  I thought about changing the direction of my mantel to be all child-like with Santa and his helpers because that would be delightful as well. There are just so many choices but the easiest way to style a mantel is to stay focused while adding personal elements for your family's style.
Play with it! I've changed the layout of my mantel a couple times already.  Below is another way to put the same items in the above images on display. There is no right or wrong way to style a Christmas mantel. The key is to make it your own style.
If you don't know your Christmas decorating style, I suggest checking out the At Home store's Christmas Central page where they have all of their Christmas items organized by styles. Once you determine your decorating and home's style, it is easy to style your Christmas Mantel. My family's style is a mix of Holiday Hoedown and Forest Fairytales with plenty of traditional reds and greens with Earthy natural decor elements with a bit of whimsical.
There are several At Home stores in Ohio including Sheffield Village, Toledo, and three in Columbus, Ohio.
They do a fabulous job with their floor displays, giving people fun ways to style their mantel, trees, living rooms, guest rooms, kitchens, front porch, and more. You can really find all of your Christmas decorating needs under one roof.
Wouldn't you just love to get cozy with your loved ones in this living room?
As you can see, there are so many ways to decorate. We each have our own styles and At Home has all the Christmas decor for every style.
I hope that my Christmas mantel as inspired you to liven up your mantel and home this season.