I'm so excited that Spring is here and Summer is shortly following! There is so much to look forward to but for now, there are a few things you need to settle around the house to be able to enjoy Summer without surprises!
Get Air Conditioner Ready
Some of us have already used our air conditioners this Spring when the temps reached 82°F!  It doesn't take long for houses to heat up under the hot sun.  Get your air conditioner ready now before those 80 and 90° temps become the norm.
If you live in NE Ohio, I recommend WF Hann for your plumbing, heating and cooling needs. If you live out in the Steubenville and Pittsburgh area, Restano is your choice for Pittsburgh plumbing, heating, and cooling. This is one area of your home maintenance that you can't skip and want to hire professionals to maintain and install. If you don't have an air conditioner, call them now to beat the rush! It's going to be a warmer and rainier summer in Ohio, so be prepared!  Don't skip air conditioner maintenance because if your AC isn't runny correctly not only will it be ineffective but could also damage your home that could lead to more extensive damage to the overall system.
Change your Air Filter
You should be changing your furnace or air handler filter every quarter already – are you? If not, stop reading this and do it now. It's easy, trust me.
I have loved how warm this spring has been so far but not how that affects allergies!  Spring 2021 allergy season is going to be bad. "Spring of 2020 was a cold spring and we had COVID going on so there wasn't a lot of pollution, we were all kind of staying indoors, we had masks on, so spring allergies weren't terrible," Dr. Patel said. "But this year in 2021, it's expected to be a dry and very hot spring and so weather pattern really dictates what pollen is going to do. So this year, I think we're going to see a lot of that tree pollen, especially this time of year."
You may want to change your filter twice this season! I recommend MERV 13 filters because they are a high rated filter that captures airborne viruses and bacteria from coughs and sneezes. These air and furnace filters help clean the air from all sorts of viruses including COVID-19 and the flu too. Plus, they are priced right.
You may want to install a system like IWave which is the world's first self-cleaning, no maintenance needlepoint bi-polar ionization generator that produces positive and negative ions that actively purify the supply air, killing mold, bacteria and viruses in the coil and living space. Or a Carrier's Infinity air purifier doesn't just filter air, it's Captures and Kills™ technology is unforgiving when it comes to airborne pathogens such as bacteria, viruses and mold. These systems would need professionally installed but would provide your family with a higher quality indoor air quality that we could all benefit from during allergy season and while COVID still lingers.
Turn Your Ceiling Fan Counterclockwise
This is a quick and easy thing to do to get your home ready for summer. Check this off the list in less than 10 minutes for your whole home. By running your fans counterclockwise, you push cool air down to the floor. This can keep your home cooler and reduce the need for as much AC use, saving you money. While your at it, use a damp cloth to clean the blades!
Wash Your Windows
I'm forever washing my windows with two dogs that like to press their noses against my large windows.  Kids with fingerprints can also quickly mark up windows. If the sun is shining through your windows exposing fingerprints, nose prints, dirt, and more, it's time for a quick clean – inside and out. There is no wrong way to wash windows as long as you wet them down and dry completely whether you use vinegar or a green cleaning product, you'll feel like you have a new house once those windows are clean!
Wash Your House
So, you can wait until Summer for this task because if you are like me, you'll probably get wet. The exterior of your home is the first thing people see, and it's easier than you think with the right tools. Not only will you wash away dirt and grime but also mold and spring allergens that could discolor your siding or rot the wood of your house.
Maintain Your Water Heater
Maintenance is key. Don't let issues get out of hand to the point that you have to replace your entire hot water heater. There are simple things that we all should do to get ready for summer when it comes to our water heater.
One thing is turn your hot water heater to below 120° to avoid scalding and save money. Another is to drain the water from your heater into a bucket, stir up sediment in the bottom and drain again. Do this several times until the water comes out clean. This should be done once a year.
Clear items around the heater. If you are like me, things just seem to get misplaced as the seasons change. It isn't surprising to find boots, sleds, and shovels where they shouldn't be and near the water heater. Keep this area clear at least 2 feet surrounding the water heater or this could become a fire hazard quick.
Not sure what your water heater needs or want a company to take care of this? Places like Restano and WF Hann have maintenance programs to keep your system in check.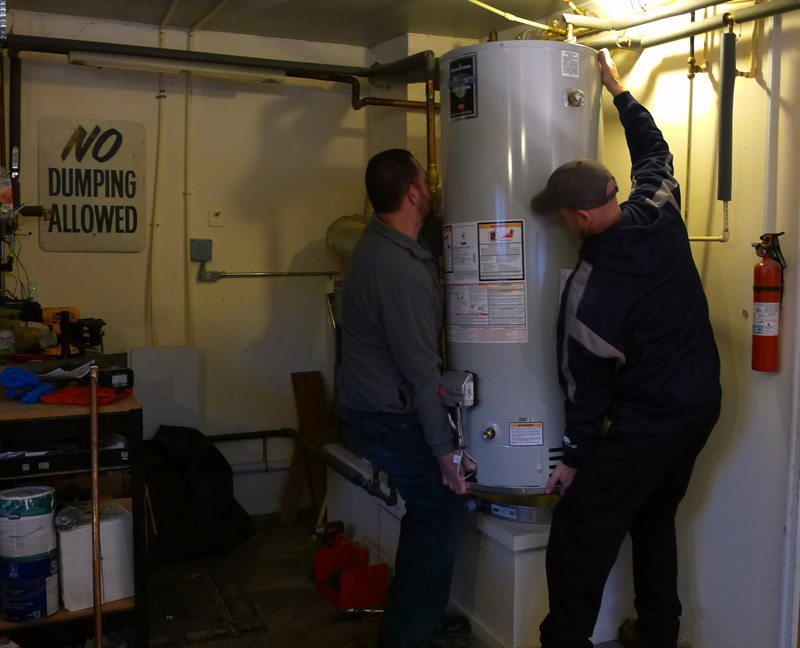 Check out more light Spring Cleaning tips that your kids can help with.