It looks like winter finally arrived. We've had our first significant snow accompanied by bone-chilling temperatures. There are plenty of fun aspects to winter including snow hikes, sledding, and my kids even had their first snow day off from school this week.
The downside is the actual cold. Our home is well insulated but I still feel chilled while sitting at my desk. Instead of cranking up the heat for the entire home and wasting money, I choose to use portable heaters. It is an easy and effective way to keep our home cozy all winter long.
I received product to facilitate this post.
The new Honeywell UberHeat™ Ceramic Heater is the perfect size to warm any small space. I use it in my office to keep me warm and toasty. It has a compact design that doesn't take up much space on your desk or floor. It provides warm, consistent heat with two settings.
If you have young children or pets around, you'll appreciate the cool-touch exterior and auto-shut off safety features too.
I've always used portable heaters, especially when I'm sitting idle – i.e. working. The main problem I have always had is that the heaters provide extremely hot heat right next to it but they don't always heat the room. Not all portable heaters are the same. Thankfully, Honeywell offers several options to keep you warm and comfortable this winter.
If you need to provide supplemental heating in a larger room like a bedroom or living room, check out the Honeywell HeatGenius™ Ceramic Heater.
I am so impressed by this heater for a number of reasons. It really is "genius" as it is totally customize-able with 6 settings. You can heat the entire room, your immediate self, or the floor space.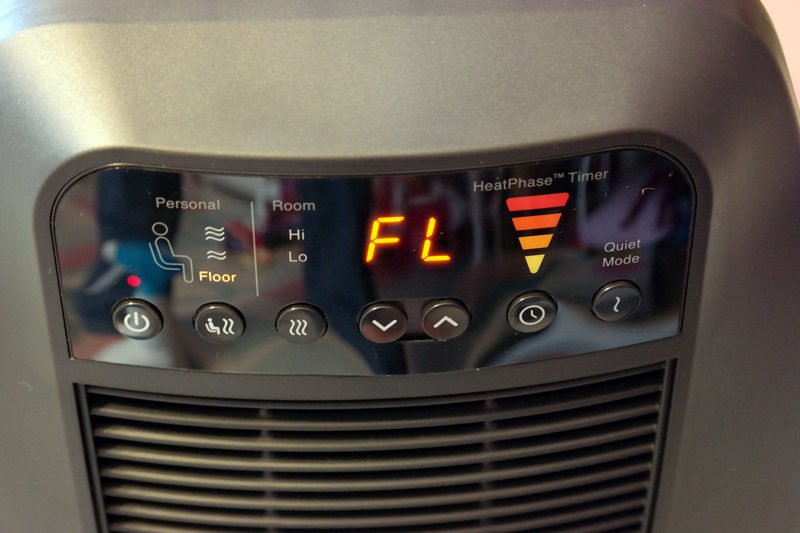 I love that the HeatGenius has a setting that will gradually provide less and less heat over the course of 2 hours until eventually auto-shutting off. This is a feature I use all the time. If I want to warm the living room for a cozy movie night or a bedroom for when my kids first go to bed, I'll use this feature. It warms the room and then will auto-shut off for me.
Another reason HeatGenius is amazing for a bedroom is the Quiet Setting. Many people want their room warm and toasty when they first go to bed but not necessarily all night long. Add a gentle white noise sound to the warm heat and you have the perfect recipe for falling asleep fast. Sleep is so important for better health, anything that aids in falling asleep naturally is a winner in my book.
My most favorite winter product this year is the Honeywell Removable Top Fill Cool Mist Humidifier.
The cold, dry weather and dry indoor heat wrecks havoc on my nose. My kids suffer from this as well, including nose bleeds from it. This cool mist humidifier does an amazing job adding moisture back into the air. If you or your children have colds, a cool mist humidifier like this works wonders for the nasal passages as well. Beyond personal health, humidifiers offer many other benefits as well.
Many humidifiers are noisy and even leave the surrounding area (carpet, furniture, etc) wet. This humidifier is whisper quiet and never leaves the floors wet. With moisture in the air, your home will feel warmer and cozier.
You can adjust the level of humidity you want at any given time. I like that one filing of water will last 36 hours of continuous use and then auto-shut off too! Refilling this humidifier is super easy. Either pour water directly into the canister or take it to your sink to fill it. There is no filter to mess around with either.
I hope you will try out these new Honeywell products to make your winter a little warmer and cozier too. It's a great brand that I've trusted for years. I'm especially impressed by these three new products and how they have helped keep my family more comfortable this season.
You can purchase Honeywell products at retailers nationwide as well as on Amazon.com.