I use to have the prettiest gardens and landscaping in the neighborhood. I love gardening. It comes naturally to me. However, something happened when we moved to this house. I know that the "something" I'm talking about is home remodeling. It takes so much time and energy that there isn't much left to do stuff like gardening. But it is more than that too. It is also because we live in out, so nobody even sees my gardens and yards.
The raised garden in our front yard will be demolished as soon as I figure out a plan on how to landscape a Frank Lloyd Wright type house with walkways around the entire house – it doesn't leave many options for traditional base gardening.  I have hated that front garden since we moved in two years ago. It is filled with mostly weeds but the flowers are not my type. I've weeded the bed and even thinned out the flowers but it is still ugly. I hate the flowers that the previous owner planted. They are just not "me". I am so frugal that I just couldn't throw them away. Last year, I split and transplanted a bunch in the woods. Now, I have a bunch in my flower bed AND the woods, so I hate them in 2 places! argh.  Check out this over-grown flower bed.
I can't believe I let it get that bad! It is embarrassing!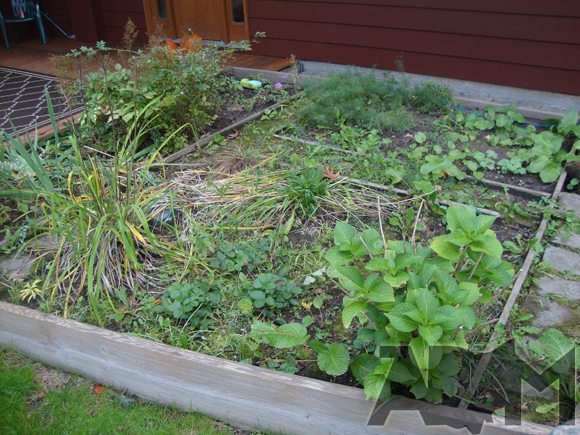 This weekend, I decided to tackle that flower bed and make it my own. I tore out all of the flowers that I hated and tossed them!  Life is too short to live with ugly flowers!  I also tour out all of the weeds! A couple hours later and I had a mostly clean slate to work with. I went to the local garden shop and purchased some mums and kale – I'm sure to watch out for Beth as she might try to nibble on the kale the next time her and her kids come over!
Truth be told, I fixed the flower bed up because I couldn't stand it blemishing my beautiful new Clopay Entry Door. I have big plans for the front landscaping but it isn't going to happen this summer. I just couldn't live with the overgrown, unsightly garden with the gorgeous Craftsman door just a few feet away. In fact, the new door has changed so much about our house. Not only does it feel like an entirely new house but it has given us the motivation to paint our house, stain the deck, and add new outside lighting!
My new Fall flowerbed
I feel so accomplished after fixing this bed up this weekend. Doesn't it look so nice with the front door? I kept it simple since it isn't suppose to be a long term garden but I plan to transport the vibrant mums to a new garden! I love the use to color in fall gardens!
Do you have an insanely embarrassing garden in your yard too?