A dollar saved is a dollar earned, right? I enjoy whipping out coupons at the register and seeing my bill total go down $10 or $20, even $1 is nice!  It is always a good time to save money with coupons, especially after Christmas while we pay off all of our shopping!
Johnson & Johnson Coupons
Coupon Alert! This Sunday, January 8th, your Sunday newspaper will have a Johnson & Johnson Healthy Essentials coupon savings pack worth $190!!  You can even go www.healthyessentials.com to get additional coupons valued at $190. I went online tonight and got really good coupons on products I already buy, see below just a few of my favorite Johnson & Johnson coupons.
Save $1.00 on any AVEENO® Hand & Body Lotion or AVEENO® BABY® product
Save $1.00 on any AVEENO® hair care or body wash product
Save $1.00 on any CLEAN & CLEAR® product
Save $1.00 on any REACH® Floss Product
Save $1.00 on any (1)LISTERINE® SMART RINSE®
Save $1.00 off any one NEOSPORIN® Base product
Johnson & Johnson's companies are partnering with FEEDING AMERICA™. With each "Healthy Essentials" coupon you use between January 8th and January 15th , one meal will be donated by Johnson & Johnson Family of Consumer Companies to FEEDING AMERICA™. They will be donating up to 1 million meals! Not only will you be saving your family money but you will help feed a hungry fellow American. I love it when companies give back like this!
FREE Johnson & Johnson Products
Save your receipts on your Johnson and Johnson brand products purchased between Sunday, January 8th – March 8, 2012. If you purchase at least $50 in products, you can receive up to $46.50 in Johnson & Johnson products for FREE!  Simply make your purchases, fill out the Healthy Essentials Savings Offer form, and mail it with your receipts.  Details on www.healthyessentials.com.
My Healthy Essentials Shipment
I already received my Healthy Essentials shipment in exchange for letting you know about these great deals. It had many of my favorites with fun new products to try as well.
2 Products that I always have in my bathroom are Aveeno lotion and Listerine.  Below is not our master bathroom, as it is on the home remodel project list for the Summer.  Below is a picture of our gorgeous guest bathroom with Phylrich Faucet and Elkay Asana Vessel Sink.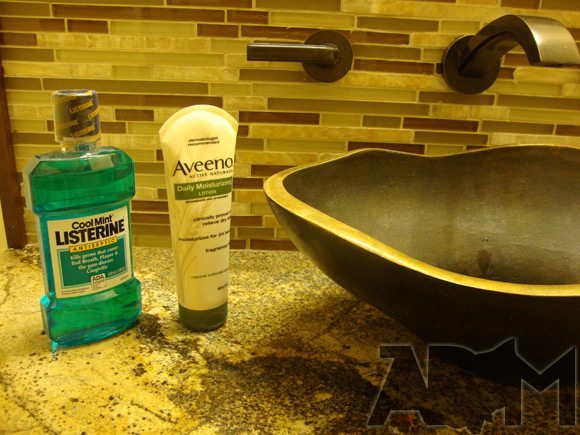 I have been using Aveeno Daily Moisturizing Lotion on a daily basis for several years now, especially in the winter.  Aveeno uses natural colloidal oatmeal blended with rich emollients to prevent and protect your skin. One thing I like is that with my sensitive nose, I can use it because it is fragrance free. It absorbs well into your skin too without a greasy feel to it.
My husband has always used Listerine Antiseptic Mouthwash but ever since we participated in the Listerine Oral Care Challenge, I'm also a firm believer and use it every day. Listerine is clinically proven to kill germs, fight bad breath, and help prevent and reduce plaque and gingivitis germs.
My mother-in-law always mentions how well I take care of my skin by using lotion everyday. I just can't stand dry skin, so I use it several times daily. The Johnson & Johnson family of consumer products offers lotions for everyone.
I have always loved the smell of Johnson's Baby Lotion. I used it on both my kids when they were babies. To me, the "baby smell" is Johnson's Baby Lotion. It smells almost as good at the newborn baby's head smell. I still have some that I use on my kids when they have dry skin but they don't really like having lotion on at this age. They basically run from me!
I had never tried the Neutrogena Hand Cream before.  It is a convenient 2 oz size to keep in your purse or at your desk. It is specifically developed for your hands. The hand cream has the consistency of a cross between a gel and lotion and really absorbs into the skin. It is also good on dry elbows!
Admit it, after seeing all of your kids super fun BAND-AID® bandages, it is hard to put a boring BAND-AID on yourself. Or am I the only one feeling this?? Why not have some fun and use BAND-AID® Brand by Cynthia Rowley Adhesive Bandages? It is a more fashionable and fun way to heal that cut.
I just saw a commercial on TV, it said if you replace 3 TBSP of sugar with Splenda, you'll lose 10lbs in a year! What a simple solution to weight loss! Changing little things like this to shed extra pounds is exactly my style. I was able to try out the Splenda® Essentials™ No Calorie Sweetener with B Vitamins, not only is it a no calorie sweetener but it also comes with B vitamins. Other varieties comes with fiber or antioxidants too.
Don't forget to check out this Sunday's paper and go online to www.healthyessentials.com for valuable coupons and your Heathy Essentials free products!
I wrote this review while participating in a blog tour by Mom Central Consulting on behalf of Johnson & Johnson Family of Consumer Companies and received products to facilitate my review and a promotional item to thank me for taking the time to participate.