KitchenAid products are known to be a workhorses. I have owned a KitchenAid mixer for 14 years, use it several times weekly and it is as good as new. I was thrilled to be able to receive a KitchenAid blender for this review.
Testing Out the KitchenAid 5-Speed Blender this Summer
I have never owned a good blender my entire adult life. Smoothies, milkshakes, crushed ice, and recipes that involve a blender have been unattainable in my kitchen. I was excited to hear that NewEgg.com carries the KitchenAid line. My husband and I have bought many computer items like my current laptop, laser printer, our computer monitors, external hard drive, and other computer and technology related items on NewEgg.com. We have been customers since 2009, receiving great products at great prices.
Being Summer, I was so excited to test out the KitchenAid 5-Speed Blender. I knew with the KitchenAid name, it would be awesome.  It has 5 speeds to select from to complete any taste at hand – stir, chop, mix, puree, and liquify. There is even a pulse mode to be in complete control at any speed level. You can even crush ice – my mom would LOVE this!
My first task was to make a milk shake. I used the recipe included in the maual.  It included milk, vanilla ice cream, and fresh fruit.
The KitchenAid mixer powered through all the ingredients and we had a milk shake in seconds! Literally seconds! My family loved having a fresh milk shake, I couldn't believe how quick and easy it was to make.
The blender works amazingly. It pulls all the ingredients into the blade at a slower speed and then whips them out at an increasing speed to the speed setting you set. This ensures that it powers through every variety of ingredient you choose to process.  This KitchenAid blender is built to last with a die cast metal base that is secure and a 56 oz BPA free pitcher that is shatter, scratch, and stain resistant. The pitcher is even dishwasher safe so clean up is super easy.
Next, we made a home made slushie. I've never tried this but my kids beg me for slushies all the time during the Summer. At $2 each, it quickly adds up. I found a slushie recipe that equal about 50 cents for 4 slushies! It is just a tray of ice, 1 Kool-Aid packet, 1/2 cup sugar, and water.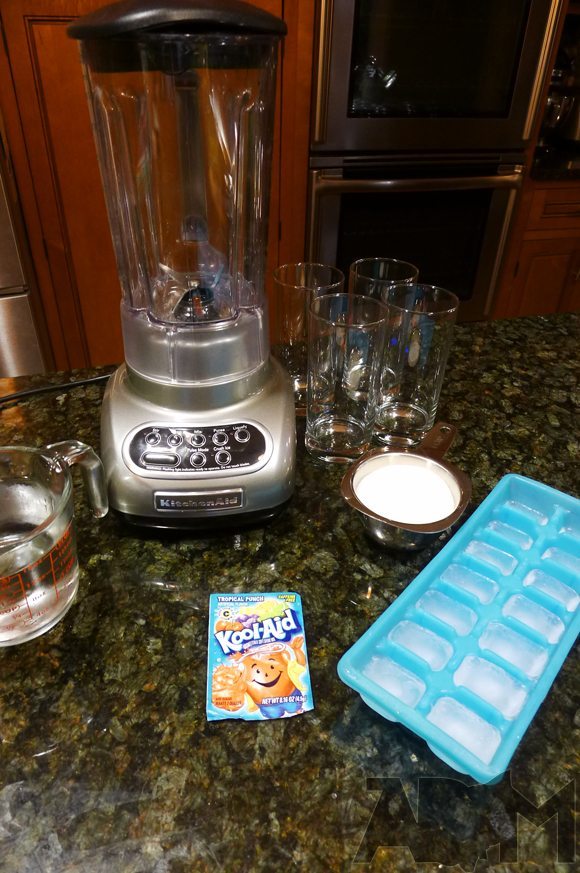 Although I wouldn't allow my young children to operate a blender, I do allow them to help add ingredients. They love to help me in the kitchen, especially when a special treat or dessert is involved!
The KitchenAid Blender powered through the ice in no time at all, creating a fast, cheap, and delicious home made slushie!
It is the perfect time to invest in a quality blender. There are so many Summer treats you can make for your whole family – for a fraction of the cost of buying it at the local ice cream stand! I will be testing out the KitchenAid 5-Speed Blender this Summer on many, many more Summer time treats!
Of course the KitchenAid Blender isn't just for drinks, you can also make soups, sauces, dressings, fresh pancakes, jams, salsa, fresh graham cracker crusts, and more. This blender will puree items like tomatoes, liquify foods like berries, grind foods, and chop items like veggies and ice.
Buy KitchenAid 5-Speed Blender
You can buy the KitchenAid 5-Speed Blender on the NewEgg website for just $99.99.
Shop NewEgg.com
Like I mentioned above, NewEgg.com offers great products at great prices. If you purchased this blender elsewhere, you would be paying a good bit more. NewEgg.com delivers quality products at unbeatable prices. It is a company my family has used for 4 years for many products. It is a company I trust and save a lot of money with.
I highly recommend NewEgg for KitchenAid products, as well as other items like computers, electronics, cameras, software, gaming, cell phones, automotive, sporting goods, watches, appliances, home products, garden & patio products, and more. They have great deals on products for the home, office, and outdoors.
This was not a paid post. My own opinions were used based on my perceptions and experience. Thank you to NewEgg.com who provided the product for review.