Sunday night, I was talking with my dad on my cell phone when both the electricity in my home and my cell phone died. Our land line and my husband's cell phone was dead too.
No power.
No water (we have a well).
No phone (3 different phone providers).
No emergency radio (wouldn't turn on).
Needless to say, I was more than a little concerned.
We were able to find a few candles and then I remembered that I had received a battery powered lantern and headlight in my office to review.
Thankfully they sent batteries too because we also noticed we were running low on D batteries!
What a relief when we powered up the Dorcy LED Twin Globe Lantern. Aww. Light. The Dorcy LED Twin Globe Lantern provides a lot of light, especially when compared to candles. It is also a lot safer than candles too!
I was able to carry the lantern around the house with me to finish cleaning up the table and kitchen from dinner, take the wet clothes out of the dryer and hang them, and look for the stored gallons of water for the toilets.  What a blessing to have light during a power outage!
There are three levels of light output: High, Low, and Night Light. We used it on High for the tasks we were performing – like trying to fix the emergency radio to see why everything lost power! The beam shoots out 20 feet, so it can easily light up a room or camping area.
I can see how the night light setting would be good for an over-night power outage or while camping.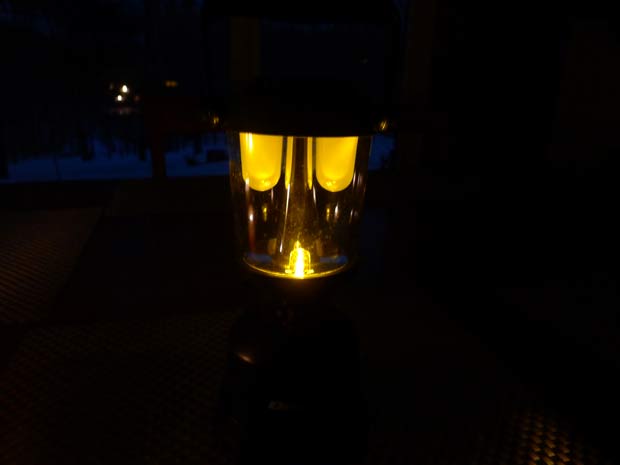 I learned that the Dorcy LED Twin Globe Lantern is actually the first battery operated lantern that replicates the lighting of traditional gas / mantel lanterns. It radiates 400 Lumens of light at  360°. Although is weighs less than 2 lbs, it feels really durable and is sturdy on its base or can be hung for hands-free use.
I can't tell you how thankful I was to have the Dorcy LED Twin Globe Lantern during our power outage. Everyone should own one for emergencies, camping, or when they need a little extra light in an under-lit area – such as in the garage when working on a project.
We also opened up the Dorcy Lumen Headlight Broad Beam during the power outage. It was a hit for my kids!! It's a light that you wear on your head for hands-free light. This is a picture I took yesterday in the evening since I didn't get a chance to snap a shot during our power outage. You can see below how it really lights up the area you are looking toward.
I can think of a zillion applications for this from emergency preparedness, to night hikes, to camping, to changing a flat tire in the dark. There are 3 brightness modes including a strobe that my kids think is fantastic fun.
The Dorcy Lumen Headlight Broad Beam would be good to have on hand at home, in an emergency preparedness kit, in the car, and with your camping and fishing gear.
Check out all the lighting options on the Dorcy website for lighting you can trust during your next power outage, for camping, and more.
Get social with Dorcy on Facebook and Twitter.
The power and our phones came back on in just a couple hours. Apparently, the power company was working on some lines that resulted in thousands of residents in Summit County losing power. Who knows what happened to our phones though.
Another surprise we had that evening was no leftovers. I didn't want to put the leftovers in the refrigerator so I cooled them on a table outside. I forgot about it but my puppy, Roxy didn't! She was a happy puppy with a full belly of pork loin!
Oh well, at least it wasn't the end of the world. 🙂