Update your look (and mood) quickly and easily with a Hair Flexi by Lilla Rose. Whether you are taking your kids to their next event or finally going out on a date night with you husband, Lilla Rose adds a feminine touch to your hair for a put together look from day and into the evening! That's my initial reaction when reviewing a variety of hair accessories from Lilla Rose for this post.
I am so excited to share with you Lilla Rose. Lilla Rose offers a variety of hair clips, sticks, pins, and headbands to adorn your hair. They are stronger than anything I've seen on the market and available in 1,000's of gorgeous styles.
I was able to review the Hair Flexi, their signature item in two styles and sizes.  I adore the Celtic Knot Flexi. I have it in a size extra-small, which surprisingly captured and held all of my hair when styled half up.
My hair is thick, long, and curly (when it is permed). It is nearly impossible for me to find a hair clip that will contain all my piles of curls without pulling at my hair while wearing it and pulling out my hair when removing the hair clip/barrettes. I also break hair clips and claws all the time. These are the reasons why I wear my hair down most of the time. Not any longer!
The Lilla Rose Celtic Knot Flexi also holds my daughter's baby fine, thinner hair. She loves to wear it with a braid.
My daughter likes how fancy it looks and that it doesn't pull her hair. Me too!
The Celtic Knot Flexi also works great with a twist and low ponytail.  Doesn't it make this look so much more polished?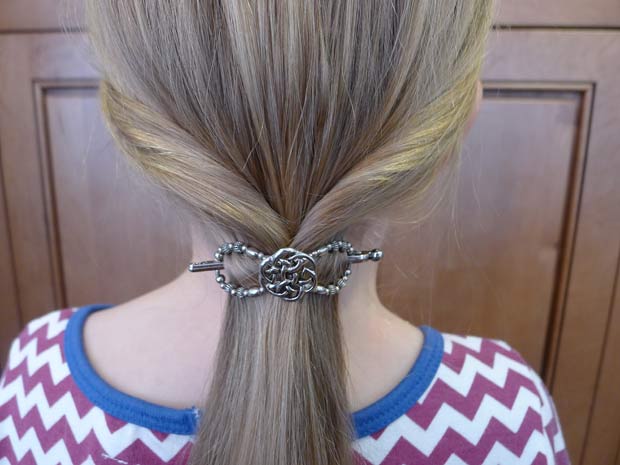 I am so impressed at the durability of the Flexi. I break hair accessories all the time and have to be so careful with them. With the Flexi, I feel like I can really use it without any concerns. Why? Because it is constructed with flexible piano wire! It is made to stretch without breaking. This provides a sturdy hold on your hair without breaking. The top, decorative portion of the Flexi is flexible while the attached bottom clip easily secures it into place – you never have to worry about losing this attached piece!
I also received the Turquoise Flexi in Small. This is great for those with thinner hair but it also worked for me and my thick hair! I used it to pull my hair half up. This gives me a quick way to secure my hair while looking beautiful. It is a lovely accent to adorn your hair with. It feels secure without pulling or tugging at the hair too.
I'm talking a little about sizes because each Lilla Rose product is available from XS to XL and everything in between.  Their Flexi Sizing guide will help you determine the best size for your hair type and the hairstyle you plan to use the Flexi on. For instance, the size XS or S is great for a half up look but if I'd like to create a ponytail, french test, or drop bun, I would need a larger size.
I also reviewed the Clearly Gold Flexi Oh in size small. This is a must-have for all moms! The Flexi Oh allows you to pull your hair back in a ponytail in a stylish way. Look how much more amazing the ponytail becomes with a Flexi Oh compared to a hair-tie! Since I have a ton of hair, I used this small size on my daughter's baby fine hair.
Sometimes you want to wear your hair long but pulled away from your face or as an accent to your hair when pulled back, that is when the Lilla Rose Hairband is the perfect adornment for you.
This hairband is not only beautiful but comfortable to wear.
If you prefer to wear it as an accent, it makes a lovely addition to your look. I found this hairstyle idea on the Lilla Rose website. It is my daughter's favorite way to wear her hair now!
I love that the adjustable comfort band makes it so that I can wear the hairband and so can my daughter. Just look how lovely this looks in her hair.   The hairband lies flat and snug, giving you all-day/night style without it slipping, falling out, or pulling your hair.
As you can see Lilla Rose works in any hair type and is great for any age and hair style. It adds a feminine touch to your hair without too much bling. There are are so many styles to choose from that there is something for everyone.
Treat yourself or give as a gift! My rep, Melody Detwiler is offering new customers a special deal!! Buy 3 items, get 1 free.
Shop online now, Host a Party, or Become a Consultant.
Get social with Melody and Lilla Rose on Facebook, Twitter, and Pinterest.
Win Lilla Rose Flexi (5 winners!)
You have the chance to win a Lilla Rose Flexi in your choice of size and style! There will be 5 winners!
a Rafflecopter giveaway

This promotion is in no way sponsored, endorsed or administered by, or associated with, Facebook. In order to comply with the latest Facebook Promotion Guidelines (revised 5/11/11), the following statements are true:* Giveaway participants release Facebook from any responsibility whatsoever.* Giveaways on this blog are in no way sponsored, endorsed or administered by, or associated with, Facebook. * Giveaway participants are providing information to this blog and giveaway sponsors only; not to Facebook.
30 Day Winning Rule applies. For complete contest rules, please see our Contest Statement and Blog Disclosure.
Contest ends at 11:59pm EST on March 3, 2015 when a winner will be drawn at random. I will notify the winners and they will have 36 hours to respond.