Americans love their pets. We spend on average $1,500 on our dogs and $1,200 on our cats every year. One way we spoil our pets is through endless treats, that is why over 1/2 of our pets are overweight. Pet obesity is a problem as it leads to major health problems including cancer, osteoarthritis, high blood pressure, and even death. Sadly, 90% of dog owners don't realize their pets are overweight so they don't know to do anything about it.
Love Your Dog More with Zuke's Skinny Bakes
Our puppy, Cali is the laziest dog we've ever known. She is active and plays but not enough to keep up with her love of eating. This puppy enjoys munching.
I've talked with her vet and he assures me that she is fine now but we need to keep an eye on her. This is why I've started giving Cali healthier treats from Zuke's.
I received product for this review post.
Cali loves her treats and I enjoy rewarding her for good behavior. She has been enjoying Zuke's Skinny Bakes® that are available in 2, 5, 10, and 20 calorie varieties.
The different sizes are perfectly sized for rewarding dogs for different tasks. For instance, the smaller 2 and 5 calorie treats are perfect for teaching repetitively new tasks like sitting and other "tricks" while the larger treats are great for rewarding good behavior like responding to "come" and other desirable behavior.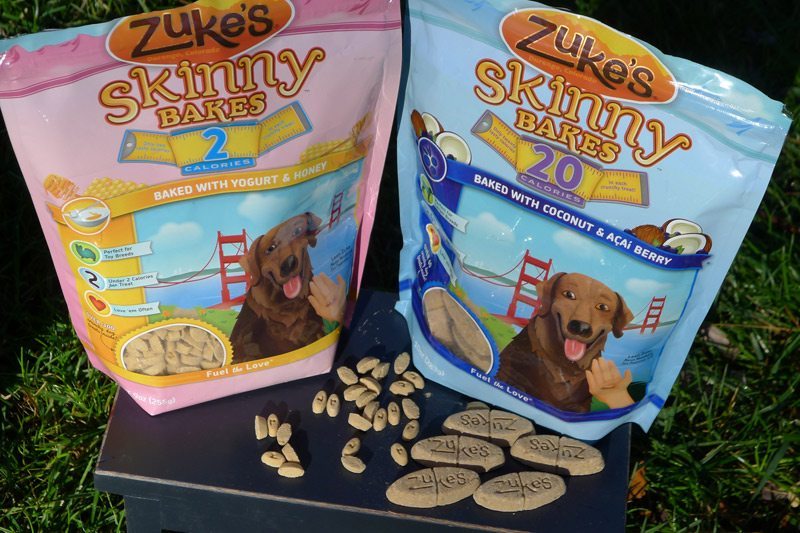 Zuke's Skinny Bakes are all made in the USA from natural, whole food ingredients with tasty combinations like yogurt, acai berry, sweet potato, pumpkin, cherries, berries, peanut butter, banana, pomegranate, vanilla, and other natural flavors.  Plus, Zuke's is good for dogs with allergies because they do not contain wheat, corn, or soy.
To keep our puppy entertained with the small 2 calorie treats by placing in a treat ball like this.
We are going to keep an eye on our puppy, Cali to keep her at a healthy weight. We love our puppy too much to allow her desire to munch to lead to life-shortening conditions. I'm sure that Zuke's Skinny Bakes will be on Cali's menu from here on out.
If you want to love your fat dog more, get him to a healthier weight. Stop feeding him high calorie treats. You can purchase Zuke's Skinny Bakes nationwide and on Amazon.com.
Connect with Zuke's on social media on Facebook and Twitter.