One of my New Year's Resolutions was for healthier living for me and my family. This encompasses everything from what we eat to exercise to the cleaning products in our home. I've been trying to purchase all natural products more and more over the last couple years to keep my family healthy and safe. I was recently just introduced to Eco-Me. They provide premium natural cleaning, skin care, pet grooming, and kits for DIY.
I received product to facilitate this post.
Eco-Me Natural Dish Soap
Over the past month, I switched out my dish soap for the Eco-Me Dish Soap made out of Natural Plant Extracts. They have unscented, herbal mint, lemon fresh, and citrus berry. They all smell great but my favorite by far is the herbal mint. It just smells amazing in the kitchen – so fresh and so clean.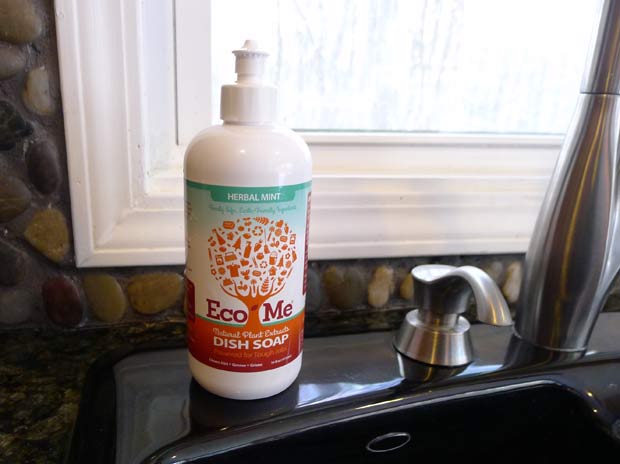 One concern for me what how it would suds up since it contains no sulfates. I was very pleased with how it suds up and cleans all my messy dishes. Although I run most things through the dishwasher, there are plenty of delicate items, cutting boards, and large items that I clean by hand. They are usually the messiest too!
The Eco-Me Dish Soap has worked really well cleaning my dishes with the main ingredients of glycerin and natural plan extracts.
I feel really good about cleaning my dishes with a natural product.
I have a confession. I tried a cheaper brand last month because it was a good deal. It wasn't a good deal when I had to toss it out because it was leaving a strong scent and film on my kids' water bottles! They couldn't even drink from them – thankfully because if it left a smell and film, who knows how awful it would have been for them to drink from those bottles! Yikes!
Saving a few extra dollars is not worth the health of my family. For less than %6 a bottle, I can clean my dishes with a product that is natural with plant essential oils doing the cleaning in a BPA-Free container.
Eco-Me contains:
No Dyes or Colorants
No Harsh Preservatives
No Sulfates (SLS, SLES, ALS)
No Animal Testing or By-Products
If you are also looking for easy, small ways to live healthy, I encourage you to check Eco-Me out.
Connect socially with Eco-Me on Facebook and Twitter.
You can purchase Eco-Me Dish Soap
quickly and easily Amazon.com. They are even on Amazon Prime for free shipping!