What's worse then packing a diaper bag? For many of us NOTHING is! Something is always forgotten or misplaced. Spending the week in day care make packing that diaper bag even more difficult, sheets, blanket, pacifiers, clothing, bibs, food and bottles! It can be over whelming, but it doesn't have to be. The Pack Right Travel and Daycare bag can make your diaper bag night mare a diaper bag DREAM.
I received product to facilitate this post.
One Tote to Rule Them All
Ok maybe you think I'm crazy. How can one diaper bag make my life better. Well my mommy OCD kicks into high gear when I pack. Scarlett isn't in daycare but we are always running around doing things (park, swim lessons, etc.). With the Pack Right diaper bag I can pack for our whole week on Sunday nights! Then I know I will always have everything we need. The Pack Right comes with a total of 9 bags including the large tote!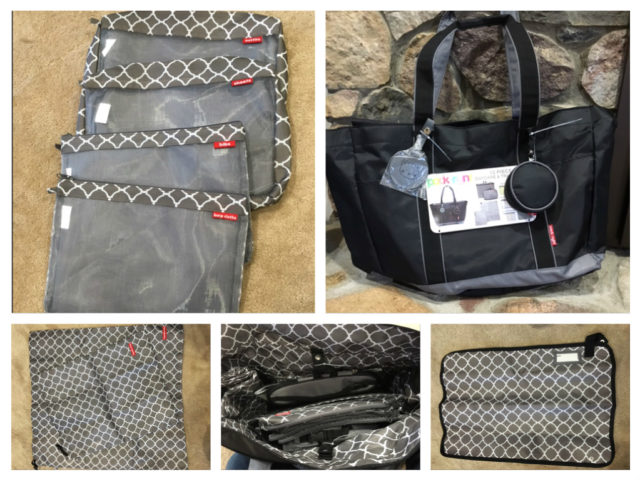 Organized and At the Ready
Inside the Pack Right large tote you have 8 pouches, I call them my "grab and go" bags. Each pouch is labeled clearly and has a location to slip in a name tag. Since my little ones aren't in daycare we don't use the smaller bags as labeled. But I love having them nicely organized so when a diaper change is needed I only slip out one small bag. When the kids need medication or essential oils there is a bag for that. One bag for spare clothing and two insulated bags, one for drinks and sippy cups the other for food. I love the tiny bag for pacifiers! We are always loosing them and now I can always find one! We us the Bib pouch to store bib, utensils and a small quick snack for Scarlett. I love the mesh fronts so I can see at a glance if something has been forgotten.
Laundry Time
The Pack Right come with two laundry bags, one larger and one small. The small one is perfect for little accidents and small baby clothes. The large one fits sheets,blankets, clothing and more. These bags have also worked well for carrying towels and damp swimsuits after swimming lessons.
Buy the Pack Right
The Pack Right Retails at $89.99 and is available at Target, Walmart, BabiesRus, BuyBuyBaby and via the Amazon link below!