We have been sharing with you about Belli Skincare for years now because of the benefits of natural skincare for expectant moms. Megan reviewed it for acne during her first trimester.  My sister tried it last year for blemish control in her third trimester. Patricia reviewed their stretchmark minimizing cream when she was pregnant.
I use Belli Skincare to get the pregnancy glow, even when I'm not expecting!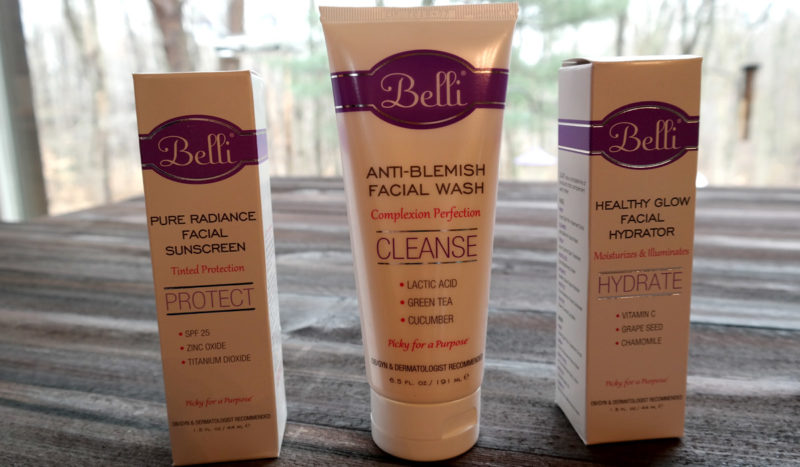 This is a sponsored post.
Belli Skincare was developed to be a safe, natural skincare line for expectant moms who are concerned about unsafe chemicals being absorbed into their skin and bloodstream to their baby. Some skin care ingredients are absorbed into your bloodstream and pass directly into the fetal circulation. Belli Skincare is a luxurious line of products that will put your mind at ease, whether you are pregnant or not.
Belli Skincare Coupon Code
For a limited time, visit the Belli website to enjoy 20% savings sitewide on Belli Skincare products with coupon code (SUPPORTNURSING). August is National Breastfeeding Month, so Belli Skincare will be celebrating with you all month long until August 31, 2017 with this special savings.
My favorite Belli Skincare Product
One of my favorite products is the Facial Hydrator because it leaves my skin feeling fresh and moisturized.
This light moisturizer infuses your skin with  powerful, antioxidant boost of Vitamin C and grape seed oil for an amazing glow of healthy skin.  It utilizes the power of Vitamin C to brighten your skin and even help even out skin tone. I love it as my go-to moisturizer for both day and night. I also enjoy the light citrus scent as it makes my skin feel clean and refreshed.
Be sure to shop this month to receive 20% savings off of already great prices for natural skincare for expectant moms and women of all ages.