I've noticed several of my friends and family talking about dry skin on Facebook this week. 'Tis the season for dry, chapped, cracked skin with the harsh winter weather outside and dry, forced heat inside.
This is a sponsored post.
Today is Winter Skin Relief Day – how fitting as so many of us are already suffering from dry skin to the point that it hurts! I remember my kids would have skin so dry that their hands would bleed when they were younger – brought on by winter weather and extra use of alcohol-based hand sanitizers at school.
We now fight dry skin before it gets that bad with several products from CeraVe. #WinterSkinReliefDay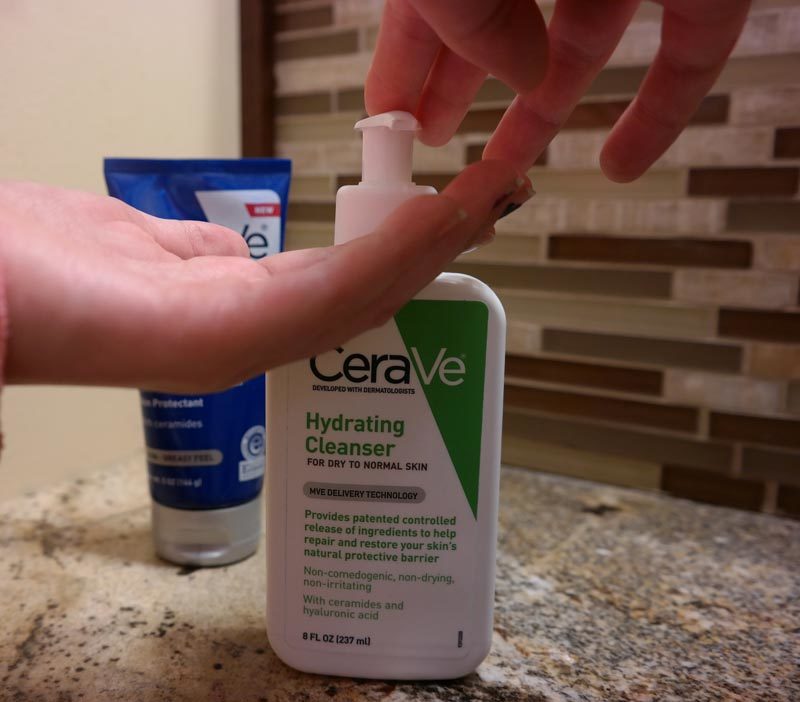 CeraVe is the first and only brand to offer a complete line of skincare products with ceramides 1, 3 and 6-11. Ceramides are essentially the "glue" that holds skin cells together, keep moisture in and irritants out. An easy way to combat dry skin this winter is to start at the sink. I keep Cerave Hydrating Cleanser in our guest bathroom downstairs to get the most frequent use.
This luxurious cleanser cleans well without stripping your skin of moisture. I really dislike soaps that make my hands feel extra dry after washing my hands!  This hand wash actually moisturizes skin as it cleanses.  They also have body wash to cleanse and moisturize your entire body.
I also keep a bottle of CeraVe Healing Ointment next to the sink. If my kids use it once daily, I'm happy and their skin stays nice and smooth.  This ointment is the best of the best! It has the National Eczema Association Seal of Acceptance for intense, long-lasting moisture that your skin needs this winter. It is an ointment, not a cream but it absorbs quickly into the skin without an oily feel – just don't use too much!
CeraVe Healing Ointment comes in two containers – the tube is great to keep with you in your purse or at home. I like it in a bathroom with multiple users since it just squirts out. Both products work wonders on your whole body. I don't know why but my back is extra itchy in the winter, this ointment works wonders.
The round tub is the same product that you simply scoop out. My son actually prefers this because he can dig into it. Whatever works! This product is amazing at what it is designed to do and that is keep your hands (and rest of your body) smooth and hydrated all winter. Even if your skin is already suffering, this product will give you instant relief from red, dry, chapped, and even chafed skin.
Our faces also suffer greatly in the winter. It's hard to cover up your entire face against the cold when you go outside!  One venture out in this frigid weather is enough to dry out anyone's face!
It may be time for a skincare routine switch up if your experiencing dry, chapped skin on your face! The CeraVe Skin Renewing Day Cream with SPF30. Yes, even in the winter, we should protect our skin with sunscreen. I like that CeraVe combats the dehydrating affects of winter while also protecting my skin from harmful rays all in one product.
The CeraVe Skin Renewing Night Cream feels marvelous, especially at the end of a day of being outside in the brutal cold. It isn't heavy but I can really feel it start working right away.  This night cream contains hyaluronic acid to support skin's elasticity while moisturizing. It is a great night cream year-round.
I like that CeraVe has a complete line of skincare products for the whole family that is safe and effective. They even have an ointment for baby to heal diaper rashes.

Unlike other skincare products that need applied and reapplied all day to be effective, CeraVe products work 24 hours to hydrate and nourish your skin! If you are suffering from dry winter skin, suffer no more! Seriously, add a couple CeraVe products to your routine and your skin will thank you!
Find out which CeraVe products would help you and your family most on their website – you can input the symptoms you are experiencing and they will recommend the perfect product for your skin.