We are all multi-tasking, why shouldn't products? Many products designed for one thing can be used with amazing results for another. One such products is dry shampoo! Did you know that it not only can clean your hair in-between hair washing but it can also keep your shoes clean and smelling fresh?
I'm a busy mom with long, thick hair. I don't have time to waste on washing and drying my hair daily, so I skip washing my hair in the shower and use UMBERTO Beverly Hills Dry Clean Shampoo every 2-3 days.
I received product to facilitate this post.
Can you tell my hair was washed 2 days ago in the picture above? Not at all! My hair takes over 30 minutes to dry and another 20 minutes to curl. I easily get overheated with my daily hair routine in the warmer months. I can't do this in the summer, there is no way!
I simply spray short bursts of  UMBERTO Beverly Hills Dry Clean Shampoo into my hair about 6 inches from my head on days that I don't wash my hair. The dry shampoo absorbs excess moisture, cleaning my hair while adding a little lift to it at the same time.
What I really like about UMBERTO Beverly Hills Dry Clean Shampoo is that it doesn't leave behind any visible residue or powdery feeling. My hair is fresh and clean just like if I shampooed it in the shower.
I also like the power of UMBERTO Beverly Hills Dry Clean Shampoo to clean shoes! This stuff is magical!
Who doesn't have stinky, sweating shoes in the summer? Simply spray UMBERTO Beverly Hills Dry Clean Shampoo  into the shoes for fresh, dry, and clean-smelling shoes all year long. It doesn't leave behind a girly scent either, so feel free to spray into your son's smelly sneakers too!
You can purchase UMBERTO products at Target at very reasonable prices. My absolute favorite product is the Umberto Curl Enhancing Lotion. It is a must for curly or wavy hair as it smooths, tames frizz, and leaves hair shiny and manageable. I love this stuff.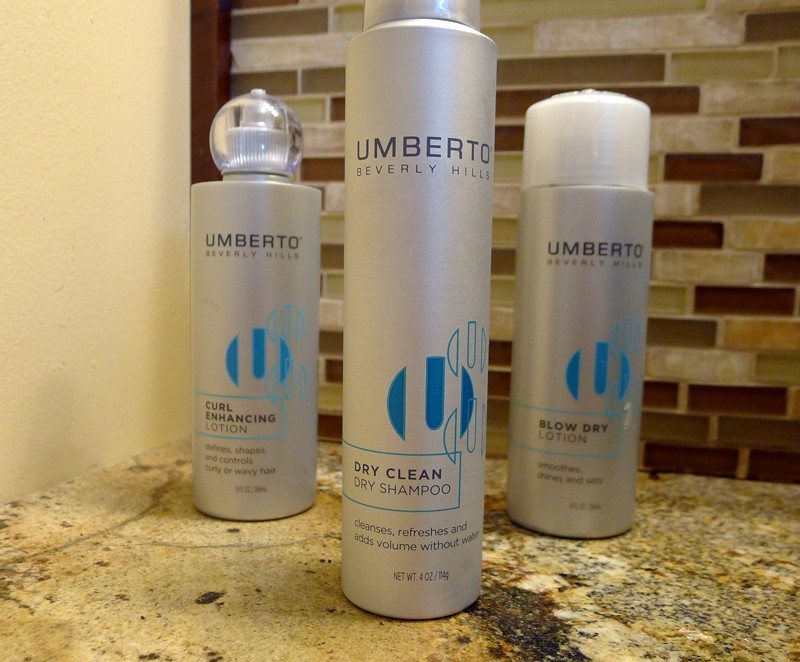 The Umberto Blow Dry Lotion is another favorite. It cuts my hair drying time way down while protecting it from heat damage as well. Check out the UMBERTO line the next time you shop at your local Target store. You'll enjoy salon quality products at a great price – and some products have multiple uses too! 🙂