Do you have dry, itchy skin? Suffer from eczema? It is the time of year that eczema and dry skin can become unbearable. I just found an all natural product that is taken orally to treat eczema from within. Loma Lux Laboratories, a local Solon, Ohio company discovered a way to naturally treat and prevent eczema naturally with minerals in their Eczema Pill.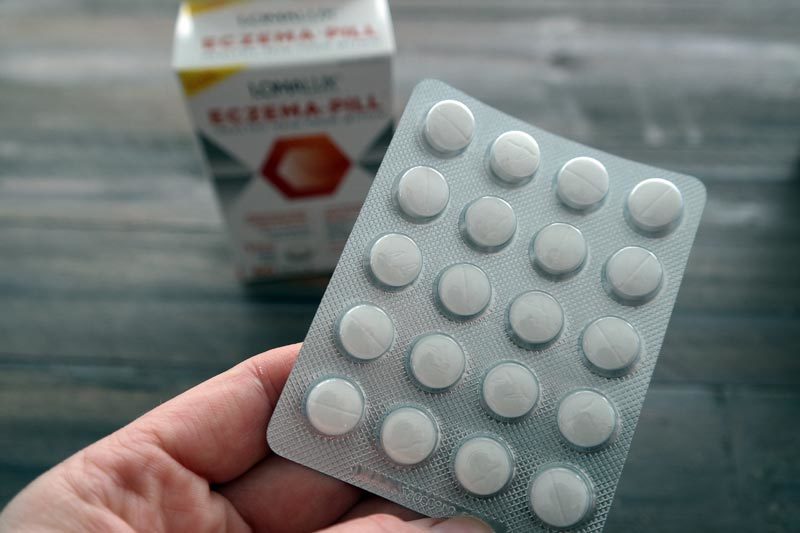 This is a sponsored post. Some links below are affiliate links, meaning, at no additional cost to you, I earn from qualifying purchases.
My husband suffers from seasonal eczema and I get really bad skin although not diagnosed with eczema. Seriously, my back has been so itchy that I often complain about it to others! I use tons of lotions but still can't seem to scratch that itch. I think it is eczema since it is so bad.
I got Loma Lux Eczema Pill for my husband and it cleared up his eczema flare-up in just a few days! He suggested that I try it since I complain…a lot…to him about my dry skin. I tried it for a couple days and then realized that I stopped itching and complaining!  It is so easy too, just take one pill daily to prevent and clear up eczema flare-ups. Loma Lux's Eczema Pill is for adults and kids 25lbs or more so your whole family can use one simple product for healthier, calm skin. They use natural minerals including Potassium Bromide, Sulfur and Nickel Sulfate to give you relief from itching and inflammation and helps prevent eczema recurrences.
It really works, that is the best part. Another good thing is that it is all natural which means steroid-free and antihistamine-free so you can even use if to help your children for itch-free skin. Another bonus – Loma Lux is a LOCAL company, based out of Solon, Ohio!!
Check out this testimonial!
They also have a product to help acne from within that promises to help clear skin with just one daily oral dose of Loma Lux Acne Pill per day. I'd like my teens to try it out to prevent those horrible, embarrassing acne teen years from even happening! Wouldn't that be awesome?!
You can purchase Loma Lux Eczema Pill in a 60 or 80 pill pack on the Loma Lux website. It is on sale now for 15% off with free shipping on orders over $35, so stock up! You can also order on Amazon.com.