70% of Americans take prescription medication every day and 2 out of 3 take vitamins. As you age, the number of medications and vitamins can quickly become hard to manage and keep track of on a daily basis. It is hard to remember if you took the medicine today – or was it yesterday? I find it hard to keep track of my kids' vitamin and supplements, thankfully they aren't life threatening if they skip a day or two. The Sagley Weekly Pill Organizer is designed to help manage pills and vitamins, keeping your health on track.
I received product to facilitate.
Our Experience Using Sagely Weekly Pill Organizer
As you can see above, there are 7 containers labeled for every day of the week in the Sagely Weekly Pill Organizer. Each container is has two compartments that can be used for AM and PM prescriptions. Personally, I use the blue for my son's vitamins and the green for my daughter's.
What makes this pill organizer unique is the push through perforated lid on each container. This eliminates the risk of dropping or misplacing pills.
When you are ready to take your pills or vitamins, the lid easily opens up.
Each compartment comes off the base for easy travel too! The base is magnetized so it keeps the containers securely on the base so they don't slip around while on your counter.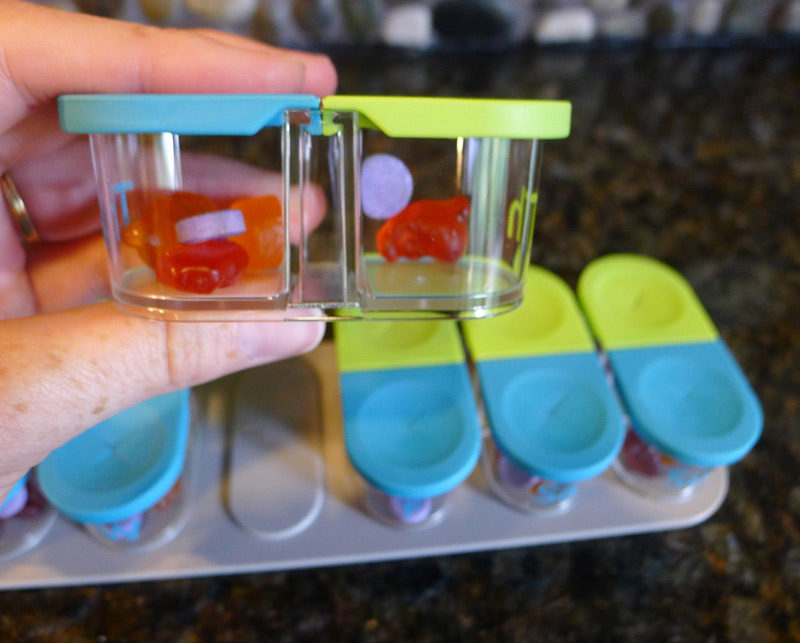 Each container has two sections, each with the letter of the week printed on the front. I love the convenience of looking at the container to know for sure if both of my kids had their daily vitamins. I also like the convenience of placing vitamins in the compartments just once a week so I don't have to pull all of the individual bottles out every day to give to my kids. We never miss a day now that we have the Sagely Weekly Pill Organizer. I had no idea it would make our mornings run so much more smoothly but it does.
My kids take a multi-vitamin, Vitamin D, and probiotic daily. They take fluoride every other day. This organizer helps me to ensure they get everything on the days that they are needed. I can't imagine how useful this must be for those taking AM and PM medications – it must be a life saver! Indeed, if you are on medications that are prescribed to you, you need to make sure you take them every day and not miss or double up on a dose – your very life could be at stake.
To further help you to remember to take your medications on time, Sagely offers a FREE medication reminder app. You can add the details of each pills, quantity, does and times a day. You'll receive a alarm sound and notification pop up when it's time to take your medication. 19% of Americans ages 55-64 forget to take their medications, so this could be life changing for them especially. This app is also very helpful if you were to go to the hospital because you'll have all of your medications online for you to tell doctors what medications and dosage you are on.
You can buy the Sagely Weekly Pill Organizer on Amazon for about $35.