I am such a huge Peter Som fan now that the new DesigNation collection is at Kohl's that I can spot others wearing his collection around town! I just love how this collection makes me feel – carefree and fashionable this Summer!
I don't wear dresses often, mostly because I don't usually find them comfortable. All that has changed this Summer with this collection. I could live in the Peter Som Empire dress – it comes in three colors, all to which can be dressed up or down, depending on how you want to wear it.
I received product to facilitate this post.
While on vacation in Myrtle Beach last week, I wore a black and white Peter Som Empire Dress to dinner, a walk on the pier, and sightseeing.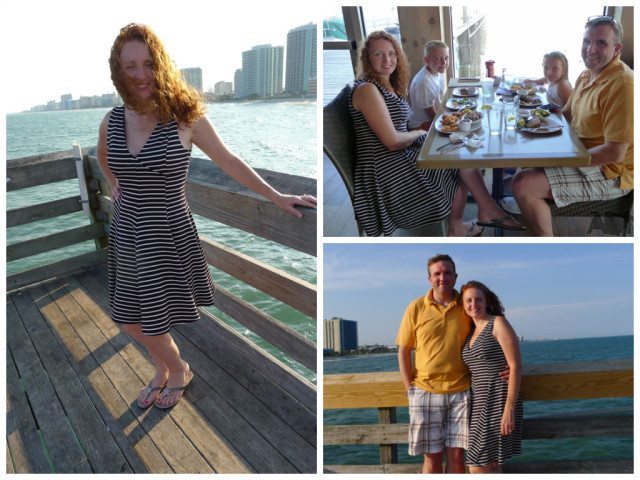 I paired it with a fun pair of sandals with starfish on the toes for a casual, beach, "I"m on vacation" look.  The material is super soft and comfortable as well. It breathes well too for hot Summer days. It was 90 degrees in these pictures were taken and I felt great in this Summer dress.
It is a must-have for your Summer wardrobe as it is so versatile that it can take you from daytime to a night out with a shoe change and accessories.
I find the fit flattering with princess seams on the top and a fit and flare bottom that works well with any figure. I've found the Peter Som dresses run a little bit big, so plan to go down a size if you are in between sizes like me.  I've found the Peter Som collection to wash very well too – something important for busy moms like us who can't separate each and every piece of clothing!
I like this black and white color combination as it could easily be accessorized for both casual and dressier for a night out with my husband or a girls night out.
I also have this dress in Indigo Combo blue colors, which I find playful and fun.
Check out the new Peter Som DesigNation Collection at Kohl's in stores and online for your carefree and fashionable look!
Like Kohl's on Facebook
Follow Kohl's on Twitter