My son is a reptile enthusiastic who enjoys caring for and learning about all types of reptiles. He combines his passion for animals and plants by building BioActive terrariums for his reptiles.
This is a sponsored post.
We had the pleasure of receiving the Zoo Med Repti Rapids LED waterfall to review for this promotion. Check out this unboxing video from my son and his friend!
Many humidity loving creatures would love the Zoo Med Repti Rapids LED Waterfall. My son's crested gecko wanted to take claim!
However, my son's Amazon Milk Frog won and calls it home.
My son and his friend thinks the Zoo Med Repti Rapids LED waterfall is just as cool as the pets and have enjoyed building a terrarium around it.
We are really impressed with the quality and easy setup of this waterfall. Everything you need to get started is in the box (no need to purchase extra pump, etc).
Set up is easy. Within minutes, you'll have a multi-layered waterfall flowing with soothing blue LED lights.
This waterfall adds calming waterfall sounds to my son's room with beautiful blue lights in the evening. There are two plugs, one for the waterfall and one for the LED lights for easy control.
My son's Amazon Milk Frog can be found at all levels of this waterfall and enjoys soaking in the water too.
What I like about this product is not only how appealing it is to humans but how it replicates the natural environment for so many reptiles that prefer flowing water over a simple water dish. Although many kinds of creatures can enjoy the benefits of this waterfall, don't house these creatures together.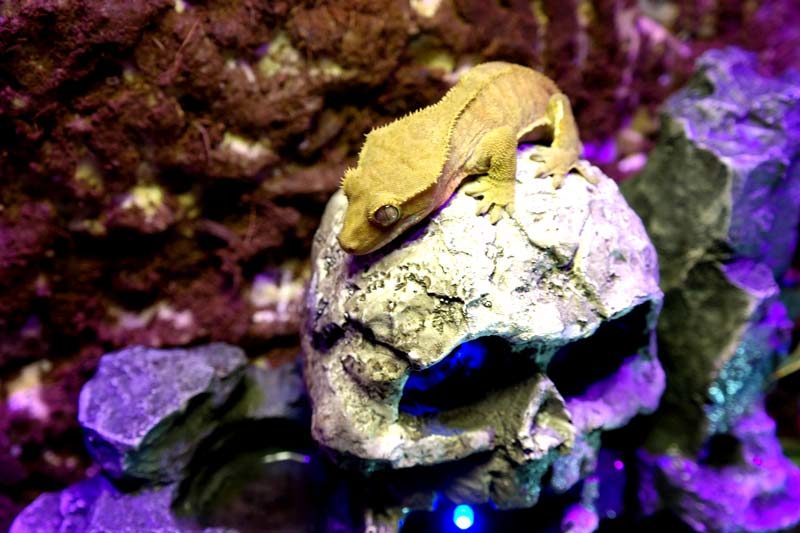 This LED waterfall gives animals that prefer a human environment natural humidity in their enclosure as well as a fresh, flowing water source.
Zoo Med has several LED Waterfalls to choose from in various sizes.
As a mom, I love that this product has encouraged my son to be creative with natural elements while pursuing his passion for all animals.  He has learned a lot about how to take care of reptiles on the Zoo Med website. Zoo Med is a resource online with care sheets, and videos. They sell everything you need to take care of your reptiles, amphibians, fish and more.
My son created a BioActive environment with additional Zoo Med products in his terrarium with the waterfall. He will be sharing more on building and caring for BioActive terrariums in future videos and posts under the tag Elijah's Creatures.
First, he added Zoo Med Hydroballs to act as a drainage layer. He layered Zoo Med Eco Earth, Reptisoil  and Sphagnum Moss to create the BioActive environment for his Amazon milk frog.   Eco Earth and Reptisoil are the main substrate. The Reptisoil helps with plant growth. Eco Earth holds humidity very well without growing mold. Both substrates are essential but can stick to the frog's skin, so the final layer is Sphagnum Moss. This layer won't stick to the frog's skin so the frog can climb better.
I attribute a lot of his knowledge to Zoo Med and there quest to educate and save reptiles. The Zoo Med YouTube channel is not only entertaining but provides valuable information for reptile level lovers of all ages. My son has learned all about animal care through their YouTube channel and care sheets. He knows how to care for all the different kinds of geckos, frogs, and other reptiles based on his research.
I like that Zoo Med is not just a company trying to sell product that they are educating people so that they can properly care for their reptiles, amphibians, and fish.
Having reptiles as pets has given my son an even greater passion for animals, plants, and nature.  If you are considering a new reptile pet or already have one, check out Zoo Med Laboratories online for everything you need from education to supplies. Buy it on Amazon.com too!