As part of National Children's Dental Health Month awareness, we are showcasing some of our favorite ways to improve oral health. We are the biggest fans of Sonicare rechargeable sonic toothbrushes. They have literally changed our lives from better (and cheaper) dental check ups to a healthier mouth that feels "just from the dentist clean" every day. Of all products I have reviewed in the past, this is one of my absolute favorites.
Sonicare rechargeable sonic toothbrushes are not just for adults. Kids ages 4 and up can reap the benefits of more than 500 brushstrokes per second with Philips Sonicare for Kids.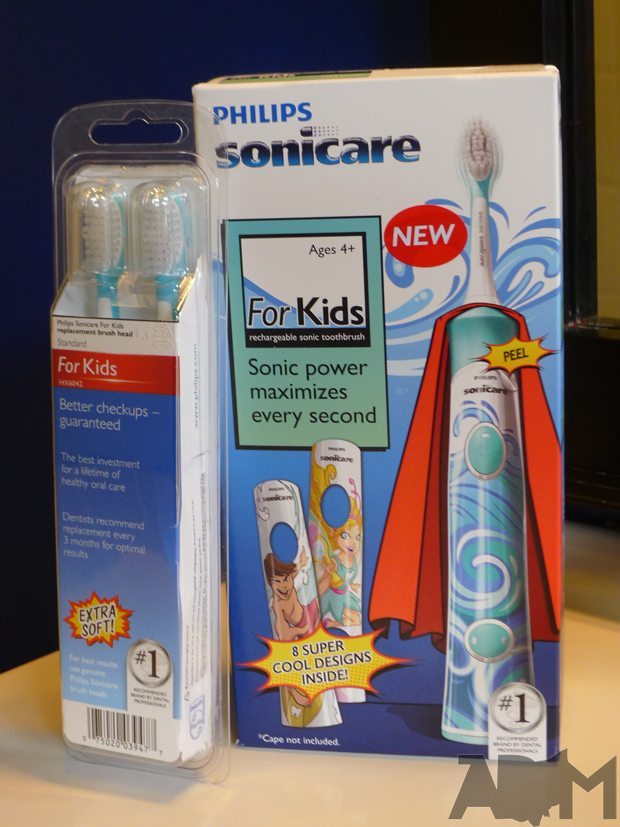 Philips Sonicare for Kids Review
My kids have been using Philips Sonicare for the past year and we have already seen better cavity-free checkups from their dentist! I love that it has paid for itself with just one trip to the dentist!
We just received the new Sonicare for Kids Rechargeable Electric Sonic Toothbrush for this review. It is a rechargeable electric toothbrush for kids ages 4+. If your child hasn't used an electric toothbrush before, there is a low setting that they can use until the get use to the 'tickle' feeling. My kids were ready for the second level from the beginning.
The Sonicare for Kids Rechargeable Electric Sonic Toothbrush helps make brushing fun and helps kids brush the recommended 2 minutes twice a day with a KidPacer Fun music timer. Brushing for 2 minutes seems like forever for kids when they brush all of their teeth at once. Sonicare recommends children splitting their mouth up into 4 sections, 2 on top and 2 on bottom. Brush just that section for 30 seconds until the music beeps, then switch.
I have seen KidPacer Fun help considerably with my children. They know that it is time to switch sections once the music plays. There is no shortcuts either, they know that it must sing to them 4 times before they are done. This is much easier than setting a timer or playing music yourself. Plus, the music is fun and encourages kids to keep on brushing.
One thing that my kids have felt cheated on before with Sonicare is the designs. Previously, their designs were fun but basic. My kids LOVE that the new Sonicare for Kids Rechargeable Electric Toothbrush comes with 8 different faceplate stickers, plus stickers to design their own style!
Now, they can have fun looking toothbrushes without sacrificing the benefits of a sonic electric toothbrush!
The handle is the perfect size for small hands too, ergonomically designed just for them. Plus, it has an easy-grip surface that helps kids brush even more easily without slipping or dropping it.
Sonicare has done an excellent job making brushing fun with the music, cool designs, and a kid-friendly handle on this newest model.
The most impressive part of the Sonicare for Kids Rechargeable Electric Toothbrush and the best selling point for moms is that it removes 75% more plaque than a manual toothbrush! No wonder 91% of dental professionals recommend Philips Sonicare for Kids for their own children!
There are two brush types, compact and traditional. For younger kids, the compact design might be best, it is what my 7 year old prefers. I suggest trying the compact for kids ages 4-7, then introducing the larger size after that. Essentially, whatever feels best for your child is going to be what is best for them. The goal is to get your children to enjoy brushing as much as possible and to develop good brushing habits early for a lifetime of healthy teeth and gums.
I am all about helping my kids succeed in life from a spelling test at school to achieving their dream job in the future. I know personally that a nice smile is important for good health and relationships – both personal and professionally. It's just the truth. First impressions matter. During the first 3 seconds, people make determinations about you. I want my kids' smiles help them reach their goals in life, not hurt them. I know that adding the Philips Sonicare for Kids to our oral health regimen is not only getting their teeth clean but preparing them for their future.
You can purchase the Sonicare for Kids Rechargeable Electric Sonic Toothbrush for about $49.99 on Amazon, Target, Walmart, Meijer, Bed Bath & Beyond, Walgreens (March 2014), and more.
This was not a paid post. My own opinions were used based on my perceptions and experience. Thank you to Philips Sonicare who provided the products for review