We added a 3 piece outdoor sofa set to our front porch this year. Although the cushions are rated for outdoor use, we noticed they weren't weathering well. I found the cushion storage chest on the Gardener's Supply Company website and knew it would be the perfect solution.
We received product to facilaite this post.
Cushion Storage Chest
When the Cushion Storage Chest arrived, my husband quickly put it together. The structure is simply powder-coated steel frame with a water-resistant fabric cover.
We have an outdoor sofa and 2 chair = 8 cushions and it holds all of them with leftover space. It holds 20 cubic feet!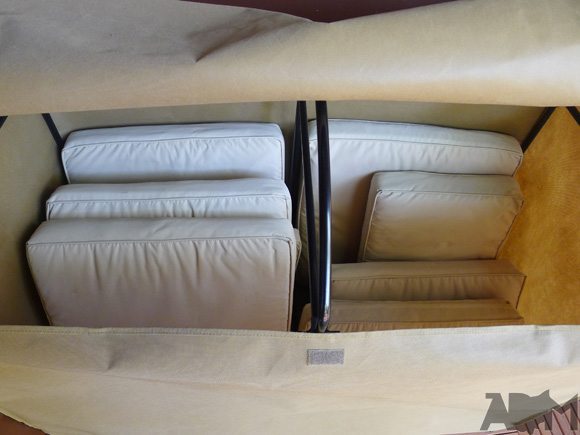 During the Fall, we plan to keep it on our porch. We place the cushions in when it is raining and bring them back out on sunny days. We'll place the entire structure in the garage or garden shed for the winter as it doubles as a storage container for winter.
When Springtime comes around, I'll place the cushions in during rain and heavy pollen time.  Our yard is horrible for pollen. Everything gets covered with a green film of pollen. I like that I cna protect my cushions – and investment – by placing them in this cushion storage chest when I'm not using them.  It also protects against the sun, moisture, windblown debris, and of course, rain.
This is a handy and affordable way to store patio cushions at only $59.95.  You can buy this and more home and garden items and more on the Gardener's Supply Company website.
This was not a paid post. My own opinions were used based on my perceptions and experience. Thank you to Gardener's Supply who provided the product for review.