Summer is 1/2 over and our swimwear is showing it. Don't you hate it when you have a great swim suit and the chlorine or salt water ruins it before the end of summer?! Mine are showing wear but my husband and son's matching swimwear from Tom & Teddy are both going strong!
I received product to facilitate this post.
Tom and Teddy offers swimwear for men and boys in a variety of styles form solids to vintage to marine. I like that their collection includes a variety of fun colors and designs that boys and men like. Personally, I love that boys and their dads can be all matchy-matchy with the same swimwear like above, however, their entire line coordinates and looks good together, even without being matchy-matchy.
Tom & Teddy swimwear is made to last – way past the mid-summer point that my suit failed at. Tom & Teddy swimwear is quality swimwear for boys and men that is both salt water and chlorine resistant so you can wear it anywhere, all the time. The fabric is microfiber so it is both super soft and comfortable as well as quick-drying – an essential with swimwear for active boys and men.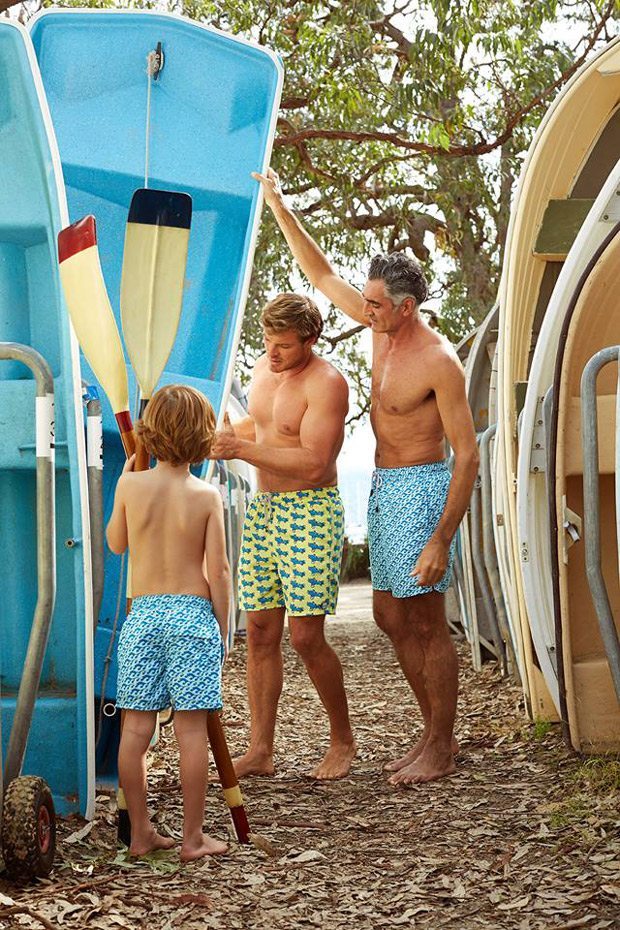 This summer, there is a new vintage collection consists of 1960s-inspired designs including waves, speedboats, airplanes and retro scooters that your boys and young-at-heart boys will love. Who could resist this scooter swimwear?!
You can purchase this beachwear collection on the Tom & Teddy website and at Nordstrom for both men and boys. Men's retail at $95, Boys' at $55