Have you ever searched for Bento Boxes on the web or on pinterest?  Traditionally, Bento is defined as a single-portion meal common to Japan. With Japanese food, Bento Boxes are basically rice, fish, and vegetables all arranged in a box container.
The hit now is taking bento boxes and creating pictures and characters out of the food.  The arrangement of traditional Japanese food or other food to look like characters, people, animals, flowers, or anything else you can imagine. The varieties and creativity put into these are outstanding!!
I've been doing some research for an upcoming contest I want to enter, and have searched high and low for Christmas Bento Boxes. This research led me to something more timely- namely Independence Day, or, 4th of July Bento Boxes.
Patriotic Bento Boxes
Enjoy these patriotic and inspiring bento boxes! What I like about bento boxes is that they are generally made up of pretty healthy food but made to look so exciting that anyone would LOVE to enjoy eating one of these creative meals!
Fireworks Bento Box
Green Onions can be a great building block for bento- but I've never thought about exploding them as fireworks- Wow!
Patriotic Bento Box
Sometimes you just can't go wrong with blueberries and strawberries for your red and blue- bento or not! The stamped stars make it fun!
Beautiful US Flag Bento Box
Stars and Stripes – It's amazing what a little repetition can do with sliced foods!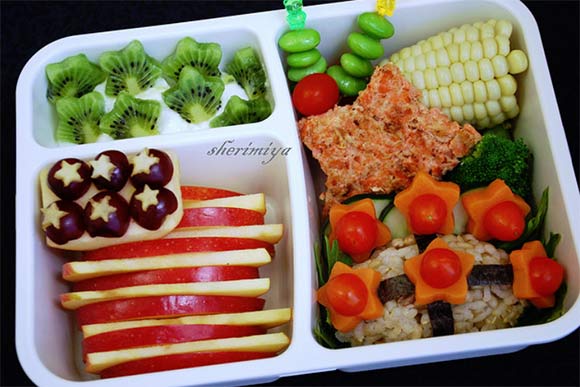 Happy 4th of July Bento Box
Carrot Cutouts- this lady is talented! Doesn't this make you feel inadequate as a mom? lol
All American Bento Box
Baseball and Apple pie- An All American Theme no doubt!
Map of USA Patriotic Bento Box
So, I've never cut the USA out of bread before, but doing it for bento food is a pretty neat application!
A Simple 4th of July Bento Presentation
Sometimes you can just go simple!