As busy moms, we want to capture and remember every little amazing thing our babies do. Traditional baby books have so many blanks to fill in that we feel guilty if we miss one.  MyOwnLittleStory.com offers the modern mom a way to record all of baby's milestones with an easy and free online baby book. This makes it convenient from home, work, or on your iPhone to record every milestone with your online baby book.
Create Your Own Online Baby Book for Free with MyOwnLittleStory.com
Creating your online baby book with MyOwnLittleStory.com is easy to create and share.  Simply open a free account and input your baby (or pregnancy) information.  MyOwnLittleStory.com is the only online baby book that offers email reminders that are specific to your baby's age.
You decide if you want to include the milestone in your online baby book or not. If you choose not to, there won't be any guilt-ridden blank spaces in your baby book, it simply won't appear in your custom book. If you don't have time to work to fill out the milestone, just "hit the snooze button" and MyOwnLittleStory.com will remind you in a week. Traditional books don't do this! If you forget to fill it out, it could be months before you flip back though the pages – if ever!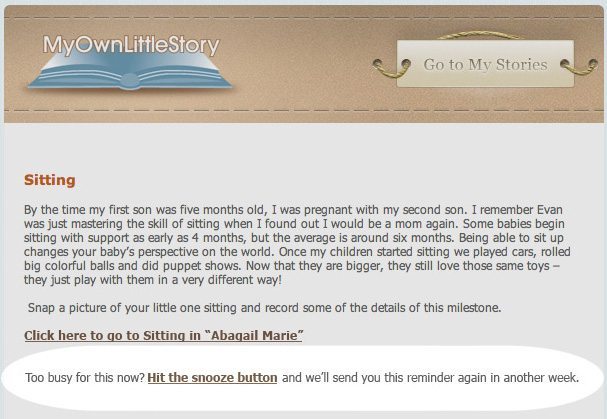 How to Create Your Own Online Baby Book for Free
It only take a few moments to register on MyOwnLittleStory.com to start. Your online baby book is free for the first 2 years, then you can either keep your baby book online for only $15 for 6 months or you can print your baby book or put it on a CD.
Once you register on MyOwnLittleStory.com, you can set your preferences for the free email reminders based on your baby's age. You can begin recording milestones right away or wait to be prompted by an email reminder. Recording your baby's milestones are easy. Just type in a sentence or two and upload 1-4 photos to go with the story. It is that easy.
Start with your pregnancy and share stories about preparing for baby's arrival. Milestone examples for the First Year include first smile, favorite games, rolling, and first words.
For the Second Year, you'll want to include milestones such as eating, dancing, imitating, artwork, and more.
Only answer the questions that you feel are important to your online baby book, those will be the only fields in your book. You don't have to feel guilty for not filling in every single blank of traditional baby books. We feel like there is no way we could ever forget the precious little things our babies do but it doesn't take long for the memories to fade.  The convenient email reminders help even the busiest of moms not to forget.
Share Your Online Baby Book
You can even share your online baby book – for free – with anyone you would like via email or Facebook.  This is ideal for people with loved ones that live far away! You are not only sharing precious pictures but the stories behind the pictures. Stories are so easily lost.
Kristin Coons, founder of MyOwnLittleStory.com wanted to be able to remember all of her children's milestones. She created  MyOwnLittleStory.com so that busy moms could create an online baby book in a way that is as easy as answering an email.  Now, your children's stories won't be lost in the fog of motherhood!
Print Your Online Baby Book
Creating your online baby book is free on MyOwnLittleStory.com for the first 2 years. After the 2 years, you can continue to store your online baby book online for just $15 for 6 months.
Printing your online baby book starts at just $38.99, a little over $1 a page. This is an amazing price for a custom baby book!  The printed baby books are professionally bound with a linen embossed hardcover that displays a picture of your baby.
When you are ready, you can print your online baby book to have a hard copy to share and treasure. Each book measures 9 inches tall by 11-1/2 inches wide. You can print from 10 – 60 pages, whatever you want your baby book to be. You can also purchase your online baby book on CD.
Recently, my 6 year old daughter found one of her baby photo albums. I didn't write a single caption on the provided spots next to the photos. I guess I thought I'd remember everything about every photo. She loves looking through the photo album and ask questions about what she was doing and what she was like as a baby. I know that I don't remember 1/2 of what I thought I would! How I wish that MyOwnLittleStory.com was around 6 years ago!
What I really like about MyOwnLittleStory.com is that it is easy to do, it takes very little time  and in the end, you have a beautiful, custom baby book. Printing a copy for yourself and even grandparents is easy and affordable! Each page equals only about $1 for a beautifully bound, custom baby book.
Every mom could benefit from this free online baby book service to capture the precious memories that are too quickly forgotten. It is a fantastic way to show your children how important they are to you and a way for you to share your love with your child as they get older.
Sign Up for Your Online Baby Book
Sign up now for your online baby book with MyOwnLittleStory.com. It is FREE and easy.
Prepay for Printed Baby Book
A prepaid voucher to MyOwnLittleStory.com is an excellent baby shower, new baby, and mother-to-be gift! It is a gift that will be treasured for generations. You can purchase MyOwnLittleStory.com vouchers in various amounts from $40 – 80 here.
Like MyOwnLittleStory.com on Facebook to learn more.
This was a paid post. My own opinions were used based on my perceptions and experience.