I'm totally new at this and seeking advice from moms with boys growing their hair long. I have always kept Elijah's hair short and spiky in the Summer, and more of a little boy's hair cut during Winter. Last year my son was in preschool and he wanted long hair. We grew out his traditional spiky hairstyle to the little boy's cut but kept it short and tight around the ears and collar.
Now that he is a big boy in kindergarten, he's asked again. "Mom, I want to grow my hair long," he asked. I wasn't going to let him. My  husband said I should see what other boys are doing and maybe we should let him. Yea, about 1/2 the boys in his class have longer hair. We said he could grow it longer but with no expectation of how long or what style or anything.
So, we haven't cut his hair for about 3 months or so. It's getting pretty long and thin at the edges. My question is, "Do we trim his hair?" or let it keep growing? I feel like the edges need to be cleaned up but am sort of afraid that it might look dorky if it's cut straight across.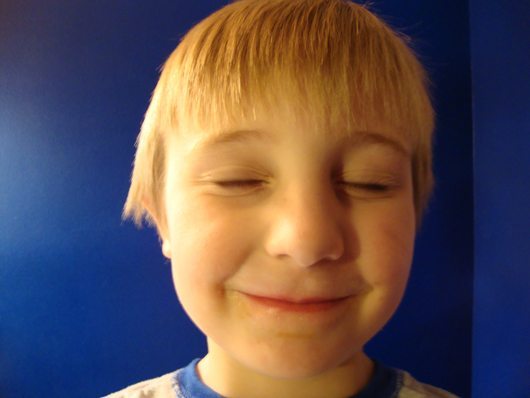 He has a long way to go to have even remotely "long" hair. I feel like the top layers need to catch up with the bottom layers but I'm not sure if this is correct thinking.
So, what should I do? Let my son's hair keep growing? Trim the edges?