Last week, I introduced you to the Kids CWIST for Kids program that gives kids the opportunity to give toys to kids in need.
It is a great way to teach kids about giving, compassion, and gratitude. CWIST offers age-appropriate tasks for kids to complete in order to 'earn' the gifts to give to a child of their choosing who is in need. You even get to choose the gift you want to give your child. CWIST is even donating the first $2,000 in toys – so it doesn't even cost mom and dad a dime.
We chose to do a CWIST that was all about gratitude. I think it is just as important for our kids to be grateful for their blessings in life as it is to teach them to be giving.
We created a Gratitude Tree.
I received compensation from CWIST to facilitate this post.
This was a fun Kids CWIST for Kids challenge in which we collected branches from our yard – we have plenty! We brought the branches inside and placed them in a vase. My kids thought this was fun. I made a note to myself to do this again in early Spring to force the buds from our dogwood tree to bloom!
Next, we printed off leaves straight from the CWIST site and wrote one thing each that we were thankful for on each leaf.
Next, we taped those leaves to our tree and started reading them to each other. You probably can't read the above or below note that my son wrote but he wrote he was thankful for Roxy, our dog. How fitting that she wanted to be in the picture. She loves her kids!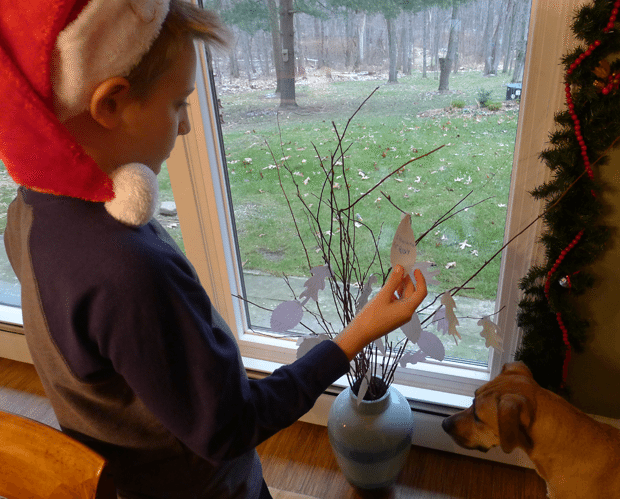 This was such a fun and rewarding family activity to do together. It is a great CWIST challenge that is good any time of year, for basically any age.
We were able to fulfill a child's wish for a Kinetic Sand, which both of my kids want for Christmas too!
In the end, we had a great time learning and showing gratitude as a family – mom and dad included – with our CWIST. And, my children were felt awesome knowing that they helped a child in need this Christmas with a new toy. It was a great family experience – perfect for reflecting on what is important during this very busy, hectic Christmas season. It allowed us to slow down and think about what is really important in life. Shouldn't we all take a few minutes to do that? Especially now, at Christmas?
There is still time for you and your children to participate in giving a child in a need a special toy this Christmas – without paying a dime as they have not yet met their $2,000 goal. Even after the first $2,000 in toys are donated, you can still participate with a 20% off discount off the toy you choose to donate. I encourage you to take a challenge, designed to
The Kids CWIST for Kids program molds kids in a way that they will grow up with a heart of gratitude and giving.
CWIST isn't just for the holidays, it is a fun and rewarding program year-round that offers your child learning opportunities with a rewards program, directed by you. Check CWIST out with your kids and have fun.
Connect with CWIST socially on Facebook, Twitter, and Pinterest with #givingtuesday #kidsCWISTforkids