With drowning being the leading cause of death for kids ages 5 and under, it is imperative that we teach our kids to swim. All swimming equipment is not created equally. SwimWays offers advanced swimming training equipment to teach your kids to swim.  SwimWays offers a variety of types of swimmingaids including Baby Spring Floats, Swim Vests, Swimmies Arm Floaties, Swim Kickboards, Swim Sweaters, and the Power Swimr.
SwimWays Power Swimr – Swimming Aids Video Review

SwimWays Power Swimr Swimming Aids Review
Until this year, I didn't know there were products designed specifically as swimming training equipment. My kids have used life vests at water parks when they were required to do so for height restrictions but never really learned to swim wearing them. What makes the SwimWays Power Swimr Swimming Training Equipment different is that it isn't all or nothing. It is totally adjustable.  As your child's skills improve, you actually remove some of the floats, making them less and less dependent on the product.
My daughter is comfortable in the water but cannot swim yet. We have swimming lessons planned this Summer, however she still needs practice in the pool. This Summer, we will be using the Power Swimr to gradually teach her to swim as we gradually wean her away from the dependence of swimming aids.
The first thing I noticed about the Power Swimr compared to a full life vest is that it doesn't go over her arms or shoulders. This seemed to give her more freedom in moving her arms to learn to swim.
Before she had the Power Swimr on, Elizabeth didn't want to try to swim, even with me there holding onto her. She just wanted to play. Once she had the Power Swimr on, her confidence was boosted.  She started moving her arms and kicking her legs. She let go of me and swam to the side of the pool by herself.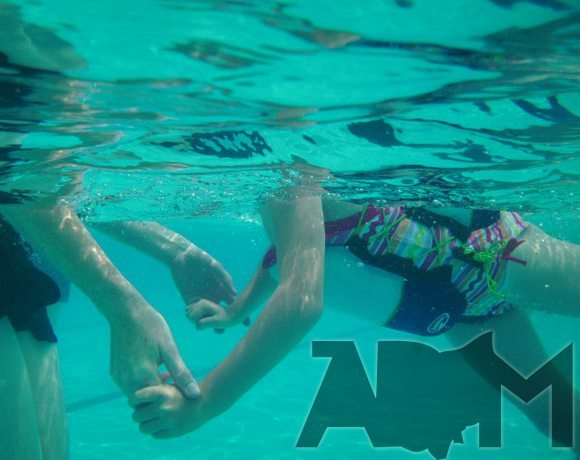 We have only had one nice pool day so far this season but I can already tell that Elizabeth will enjoy using this swimming aid to learn to swim. I'll keep you informed of our progress.
Buy SwimWays Power Swimr – Swimming Aids
You can buy the SwimWays Power Swimr – Swimming Aids on the SwimWays website in a variety of colors and sizes, and on Amazon.com.
This was not a paid post. My own opinions were used based on my perceptions and experience. Thank you to SwimWays who supplied the products for the review.